Many of us find dressing up for a wedding or out for an evening, not the black tie type, but the smartly dressed type, hard work, our wardrobes just don't cater for it if we don't do it too often. Too easily when invited out we feel we have nothing to wear so we go shopping and spend money on a garment that we might only wear once or twice, which is a waste of money and resources.
Instead, don't fall for this expensive trap, instead start creating an evening wear wardrobe capsule so that you have a variety of pieces that can be mixed and matched to create a few looks from smart to dressy so that you have something appropriate to wear, no matter where you're invited.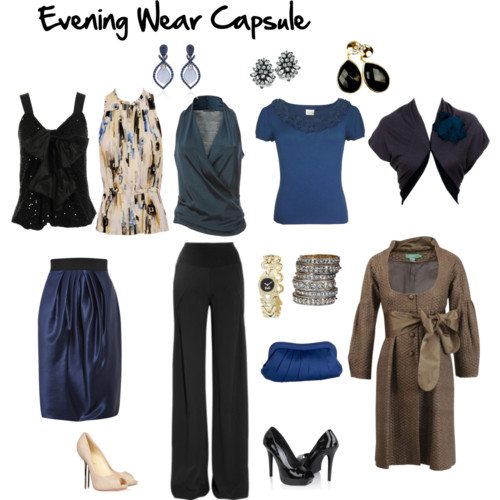 Here I've created a capsule that gives you over 16 outfits, plus of course add in the accessories to mix it up.
Don't forget to look for a fabulous evening coat, you may think that you can wear anything as you'll take it off when you get to your destination, but finding something that has great impact as you walk into the room will really finish off your appearance.
This capsule can take you from dinner at a restaurant, to a cocktail party to a wedding.
Absolutely black can be an easy option for evening wear, but don't base your whole evening wear capsule around black, instead look to add in some colour as it will make you stand out from the crowd.
What's your favourite colour to wear out at night?