Recently I was having a conversation with someone who asked if leggings were still 'in' and if they were too old to wear them.
My reply was that they are still around (looking at the Fall 2009 fashion shows they were everywhere on the runway) and are generally more flattering than a lot of the bright coloured tights that are currently out in the marketplace, as leggings tend to be black (though you can get all sorts of colours and patterns), so draw less attention to your legs than a hot pink pair of tights.
Also, they're a great option when the weather is a bit cooler in the morning, and you may want to wear a skirt or dress with a ballet flat, peep toe or even sling backs, as they give you the option to take them off easily if the weather gets too warm during the day.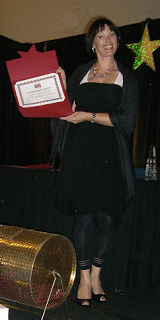 I do admit to wearing them – in fact, here I am in a pair – just a supermarket brand from the hosiery section (Razzamatazz for all the Aussie readers), which have a great little stripe detail at the ankle which I like.
They can add some extra coverage to a skirt or dress that's a little on the short side, or just warmth to your legs if you need it. They also create a longer flattering line from the end of your skirt hem lower down your leg that can visually elongate your legs.
My caveat to leggings is – they are NOT a substitute for pants or a skirt, but hosiery. Do not wear them with just a t-shirt or top – you look like you forgot to finish getting dressed.
Want some more inspiration on how to wear leggings:
Do you wear leggings? Is there an age limit to them?