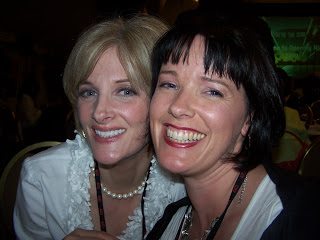 I downloaded my photos from my camera from the AICI Conference in Irvine, SoCal (this is Karen of a Certain Age and me), and I noticed something, my teeth are not very white. I get compliments on my teeth here in Australia, but I don't think they make the grade in LA. They are stained, not from coffee (don't drink it or tea), but from some medication I took as a child and everyday wear and tear. Brown teeth are offputting, unclean and look unhealthy, but so is the fake ultrabright smile to me.
Also, whiter teeth look younger – our kids have gorgeous white teeth, they go brown with age.
So, I got some teeth whitening gel from the chemist (drugstore) and this is the result of 3 days – my eyeteeth certainly look whiter and my teeth look cleaner and fresher. Here is the before pic with an after pic so you can see the difference already. My eye teeth are the ones you notice the biggest difference to, they are the most stained.

How white is too white? I would say that if your teeth are whiter than the whites of your eyes, they're too white. What do you think?