Karen asked me if I could do a post on wearing Red – as she bought a pair of red shoes in Paris, and was thinking that maybe they looked a bit 'clownish' – so here are some tips.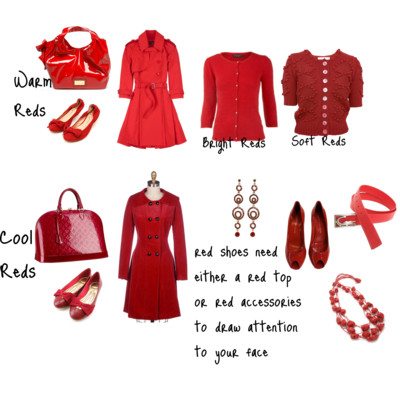 Red comes in many guises
From bright to dusky, from warm to cool, light to dark. The right red will make our skin glow with health, the wrong red will make us look like Rudolf the red nose reindeer. Check which reds suit you best by holding up a host of different reds under your face in good lighting, and dropping each in turn and watch as the colours change how your skin reacts to the particular shades, tints and tones of red.
Some of the garments and accessories that work best in this flamboyant colour are red coats – what a great way to liven up a dull winter day, red shoes and red handbags. These all team really well with neutrals from black and grey, brown and camel, navy and white. It's so hard to go wrong by mixing red with a neutral.
Unless you have a very dramatic personality, red is not usually great to be worn head to toe, keep it to one garment at a time, or 2-3 accessories (shoes, belt, necklace for example). Too much red can overwhelm us and aggravate our senses. Red has been show to stimulate and give us an appetite, but it can start to annoy if overused.
Softer reds
They are easier on the eye and less bothersome to look at for long periods of time. As we age, we usually need to soften down the reds we wear – check to see if your red is wearing you or you are wearing the red, by shutting your eyes and then opening them – is your gaze drawn to your face or the red garment? If it's to the garment, consider toning down the colour, it will make you look slimmer and younger than a too bright red.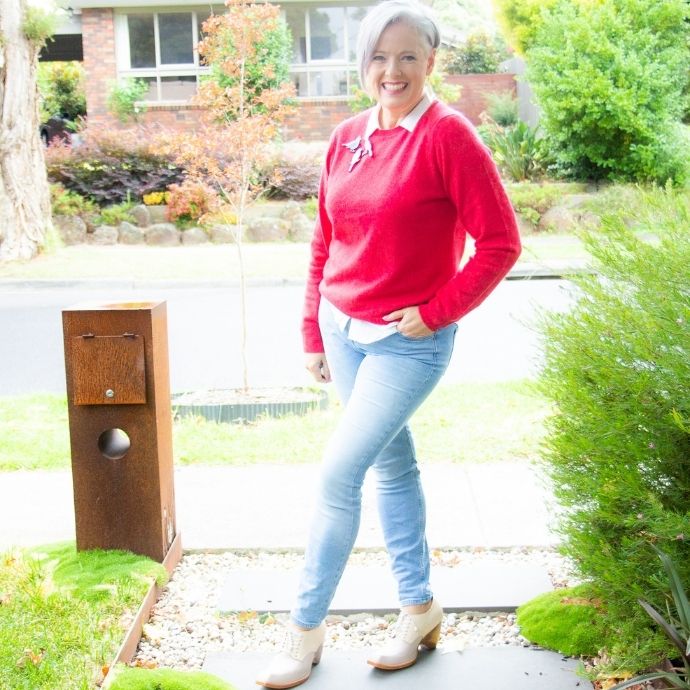 If you have red shoes, team them with some flattering neutrals, and play a game of dot-to-dot, drawing the gaze from the shoes up the body via belt, necklace, bracelet, top or earrings to your beautiful face. If you wear all neutrals and then just red shoes, our gaze will get stuck on your feet. Avoid wearing more than 3 red accents at one time – no need for overkill.
Choose your reds from the same family – bright and cool with bright and cool, avoid mixing warm and cool reds for best effect.
Do you like to wear red?