The fabric a garment is made in, can completely alter the way it sits and whether it is flattering or not for your body. If you're a more cushioned type of person, be very aware of the fabrics you choose as they can make you appear to add or lose weight.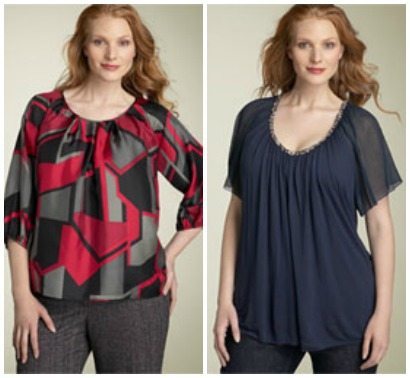 For example, this shirt (on the left) is made from a stiffer fabric which stands away from the body, visually adding bulk. It doesn't fall smoothly over the body, but rather creates a tent effect.
Compare it to this shirt (on the right), whilst kind of similar in style, is made from a much more drapey fabric, thus makes the model (same gal) look slimmer.
There are a couple of other reasons that make the shirt on the left less flattering for this model – can you work out what they are?
Answer: The size or scale of the print and the gathered neckline.
Find out more about the 9 Keys to Unlocking Your Style with this free guide.