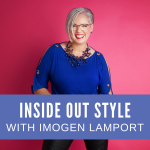 In this Episode
0.21 More muted colours suit me now but they feel boring when I just wear one of them with a neutral how can I feel more vibrant in them?
4.46 As an A shape how much darker should my bottom be than my top? Can another colour in the same value work and still be flattering?
7.34 How do I dress smart casual in a column of colour for winter when I'm petite and have light colouring and like to wear dark jeans as they are dressier and they suit my smarter personality dressing style?

How to Feel More Vibrant in Muted Smoky Colours
How to Create Dramatic Outfits When Your Most Flattering Colours are Soft and Smoky
8 Tips Rose Byrne Can Teach You About Adding Dramatic Style Elements to Your Outfits
A Shape Bottoms How Dark Should they Be?
Style Rules for Building a Wardrobe of Classic Staples When You Have a Light Ideal Value
How to Wear Dark Column of Colour with Light Colouring
How to Get the Right Contrasts and Value with an Inner Column of Colour
Subscribe to my Podcast
You can now get these videos as podcasts subscribe and never miss an episode
Send me Your Questions
Please email me your questions to be included in my Q&A Lucky Dip!