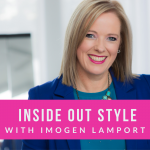 In this Episode
0.10 Do you have to always repeat your value contrast in your portrait area? How about if you don't want to wear a jacket because it's summer?
2.15 How can a scarf make or break an outfit with its proportions?
4.48 How to ombre dye a garment?
6.06 Should I just buy white clothes and dye them because it's so hard to find what I want in the colours I want?
Value Contrast
The Value of Value Contrast and Using it to Create Stunning Outfits
Scarf Proportions
Dyeing Your Clothes
Everything You Need to Know to Overdye Your Clothes at Home and Get a Brilliant Result
How to Overdye Difficult Colours Such as White, Beige, Navy and Orange
The Art of Overdying Your Clothes – Frequently Asked Questions
Want to Transform Your Style?
With my full image package that you can do from anywhere in the world get on board the ultimate online women's style program 7 Steps to Style and start transforming your style today.
Subscribe to my Podcast
You can now get these videos as podcasts subscribe and never miss an episode
Send Me Your Colour and Style Questions
Please do email me your colour and style questions to answer on upcoming videos!