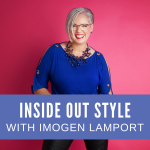 In this Episode
0.16 What are some options if you have short legs and dark colouring but need a strap to keep your shoes on?
4.10 Will changing my hair colour change my palette or just my contrasts?
8.06 How do I know if I should wear patterns or solid colours?
Faking a Low Vamp Shoe
Changing Hair Colour and Colour Palette
How Often Should You Re-Evaluate Your Style Recipe and Colour Palette
Patterns or Solid Colours
3 Essential Elements to Choosing Flattering Prints and Patterns
How to Interpret and Choose Prints and Patterns For Your Personality
Subscribe to my Podcast
You can now get these videos as podcasts subscribe and never miss an episode
Send Me Your Colour and Style Questions
Please do email me your colour and style questions to answer on upcoming videos!