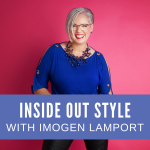 In this Episode
0.10 When mixing colours, if light colours work best with other light colours and dark with dark then if I'm a high-value contrast, how do I put colours together for my value contrast?
4.44 What colour shoes to choose when you're petite – with summer dresses and also with 7/8 length pants/leggings when you have dark brown hair?
10.02 If you have warm skin and eyes but your hair is going grey – does this make you automatically cool?
Mixing Colours How to Create the Right Value Contrast
5 Colour Concept Essentials You Need to Understand To Create Harmonious Outfits
What Colour Shoes to Choose Petite
Petite Proportions – Getting it Right with Skirts and Dresses
Warm Colouring Going Grey
Choosing Colours When You Have Grey Hair But a Warm Skin Undertone
https://insideoutstyleblog.com/2013/03/whats-your-best-neutral-grey-hair.html
Subscribe to my Podcast
You can now get these videos as podcasts subscribe and never miss an episode
Send Me Your Colour and Style Questions
Please do email me your colour and style questions to answer on upcoming videos!