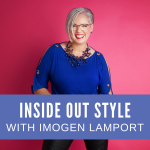 In This Video
A shape can I wear tops and jackets that end at my widest point if I wear them as an outer column of colour?
Going grey – will this change my colour palette? How will I know if I need to reassess?
Which colour palettes are easiest to identify? Are there any particular colours you look at to determine colour direction?
A Shape – Where to End Tops and Jackets
How do I Know When It's Timeto Reassess My Colour Palette?
Colour Analysis
9 Ways Knowing Your Best Colours Will Change Your Life as Well as Your Wardrobe
Subscribe to my Podcast
You can now get these videos as podcasts subscribe and never miss an episode
Send Me Your Colour and Style Questions
Please do email me your colour and style questions to answer on upcoming videos!