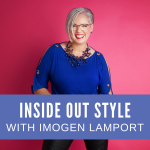 In This Episode
0.11 My biggest problem with my style is that I seem to have lost it! I began dressing casually when I had kids and I just never seemed to get my flair back. I am also a theatre nurse so when I go to work I get changed into my "pajamas". So I haven't put much effort into how I look as I just get changed. I guess I've just lost my spark and aren't sure how to get it back. I see lots of stuff I like but at 51 I'm not sure what works for me and I find it easier to just fall back into track pants/active wear.
9.41 If I wanted to put it in a nutshell, my biggest style struggle is overwhelm. I've been told that my colouring is Clear and deep winter, and true winter and bright spring and vivid winter and so I'm totally confused and then as far as body shape goes there are so many systems, from Kibbe to Trinny and Susannah (What not to wear) and so many more. I'm so confused I don't know who to believe and what to do. I wish had the self-confidence to dress with certainty rather than always feeling confused about what is right.
Body Image and Your Style
How Your Body Shape May Change with Age and Weight Gain or Loss
Understanding Colour Systems and Personal Colour Analysis
How Do You Figure Out If You've Got a Warm or Cool Skin Undertone?
Body Shape System
How to Create Your Own Figure Flattery Guidelines with the Body Equation
If You'd Like to Define Your Style and Discover Your Colours
If you're sick of wasting money on clothes that don't work and you know there is a better way, then join my 7 Steps to Style program and get the right information for you and your style.
Subscribe to my Podcast
You can now get these videos as podcasts subscribe and never miss an episode
Send me Your Questions
Please email me your questions to be included in my Q&A Lucky Dip!