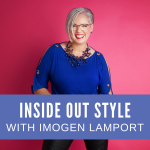 In This Episode
0.08 I'm retired, have a large bust and am petite plus have lymphedema so need compression stockings – I find it hard to find attractive clothes that work for me It's a struggle to find items I like.
5.05 I am a petite O and recently bought a summery print skirt that is the right length ( top of my knee) according to your formula. I wore it with a solid knit top again the right length ( high hip, just covering the fullest part of my belly), but I see they are just about equal in length! Do I just go with it or do you have another thought?
6.37 I'm retired and have nothing between more formal corporate clothes and super casual as my life is now very casual and doesn't suit the classic/formal clothing style I've been living in for many years and some guidance is needed!
What to Wear When You're Retired
Finding Clothes For The Over 70s For A Retired Casual Lifestyle
Petite Dressing Style
How to Find Clothes that Fit When You are Petite and Plus Size
Stylish Casual Wear
If You'd Like to Define Your Style and Discover Your Colours
If you're sick of wasting money on clothes that don't work and you know there is a better way, then join my 7 Steps to Style program and get the right information for you and your style.
Subscribe to my Podcast
You can now get these videos as podcasts subscribe and never miss an episode
Send me Your Questions
Please email me your questions to be included in my Q&A Lucky Dip!