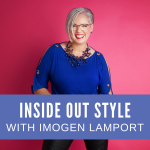 In This Video
0.10 How do I get a capsule together: I have quite a few orphan tops that only go with pants. Jackets don't complement either, it's all a bit haphazard – any tips?
3.59 I'm an overweight H shape (possibly O right now!) and it has become clear that my hips and legs stay relatively slim. I know a bit about how to hide a tummy, but I'm wondering, on the positive side, how do I highlight my hips and legs without creating an imbalanced look
6.07 My biggest challenge is my age! I will be 86 in September and find that most of the clothing available in my town is too youthful, that is: short dresses, low cut or clingy tops – how do I find clothes online?
Building Your Wardrobe Capsule
4 Simple Tips to Help You Build a Stylish Wardrobe of Clothes
Dressing the H Shape body
Dressing Youthfully
If You'd Like to Define Your Style and Discover Your Colours
If you're sick of wasting money on clothes that don't work and you know there is a better way, then join my 7 Steps to Style program and get the right information for you and your style.
Subscribe to my Podcast
You can now get these videos as podcasts subscribe and never miss an episode
Send me Your Questions
Please email me your questions to be included in my Q&A Lucky Dip!