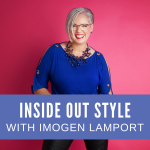 In This Episode
0.05 I have been feeling quite stodgy and frumpy with my style lately. I retired 3 years ago and I've decided it's time to step up my game and spend some much needed time focusing my attention on updating my wardrobe.
There was a time when I was always dressed very professionally at work and I felt put together and confident. Over the last number of years, I started to let my style fall by the wayside at work. I think casual Fridays at the office had lots to do with this and since then, my style aesthetic slowly began to disappear.
I seem to have lost all my confidence in how to properly dress my body. The struggle I seem to be encountering at the moment is how and where do I start my wardrobe overhaul Would love to hear your thoughts about finding your style aesthetic again and building a new and revised wardrobe from there
9.29 I think my biggest challenge is my lack of style. I am definitely "natural" by the personality quiz definition, but I don't like to look messy. I like comfort and quality! How do I be stylish and natural at the same time?
13.07 I have an hourglass figure and I find it hard to find well suited blouses. I have wide shoulders and small waist and all tops end up loose on it, they take a bell shape! I limit myself to elastic, tight fitting tops, but they mostly are very casual and I look for more refined clothes. Fashion industry tends to make boxy shaped clothes nowadays and they are really ugly on me! I mean after my chest the fabric moves away from my body and protrudes and I don't know how to tuck it in!
Know Your Style
How To Answer Personal Style Quizzes To Reflect Your Personality Style
How to Define Your Style
Style is a Journey Not a Destination – 7 Ways to Define Your Style
Developing Your Style Recipe – Tips and Tricks from the Professional
How to Dress an X Shape
If You'd Like to Define Your Style and Discover Your Colours
If you're sick of wasting money on clothes that don't work and you know there is a better way, then join my 7 Steps to Style program and get the right information for you and your style.
Subscribe to my Podcast
You can now get these videos as podcasts subscribe and never miss an episode
Send me Your Questions
Please email me your questions to be included in my Q&A Lucky Dip!