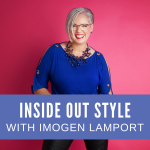 In This Episode
0.08 My biggest challenge: Dressing up my relaxed style enough that I feel 'put together' appropriately for church, dinners out, social functions, etc
4.57 My biggest challenge would be the change in my body and getting older. I haven't figured out how to dress my 30 pounds heavier, menopausal body. I hate clothes shopping and when I do buy something, once I get home I usually hate it. I used to wear tight, cute, flirty clothes. Now I'm baggy jeans and loose t-shirts
11.08 How can I tell if I've changed to an O body shape from an H body shape?
Relaxed Dressing Style
6 Things to Look for When Choosing Dresses and Skirts for Relaxed and Casual Environments
What to Wear When You Work in a Corporate Environment But Prefer a Relaxed Dressing Style
Ageing
Changing body shape
How Your Body Shape May Change with Age and Weight Gain or Loss
What Guidelines to Follow When Your Body Shape isn't "Standard"
If You'd Like to Define Your Style and Discover Your Colours
If you're sick of wasting money on clothes that don't work and you know there is a better way, then join my 7 Steps to Style program and get the right information for you and your style.
Subscribe to my Podcast
You can now get these videos as podcasts subscribe and never miss an episode
Send me Your Questions
Please email me your questions to be included in my Q&A Lucky Dip!