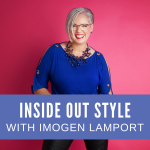 In This Episode
0.07 I feel like I'm never stylish – it that my lack of shape means clothes don't fit or flatter? I'm short too which doesn't help – any suggestions?
2.39 – I'd love to wear dresses and skirts but tend to always wear trousers and tops because I'm overweight. I find it hard to dress up! I also recently bought a bowler hat but haven't had the courage to wear it yet.
5.43 – My style shifts with different workplaces, cultures and activities and I"m quite non-conformist, whilst also being comfort orientated. I could like to add a piece or two from current trends to wear with my existing wardrobe. How to do this?
Your Guide to Tailoring and Alterations
Wear Something New
Why Courage is the Ingredient You Need To Become More Stylish
What are Mental and Emotional Comfort with Regards to Personal Style?
Defining Your Personal Recipe
6 Powerful Strategies for Replacing Wardrobe Workhorse Items
If You'd Like to Define Your Style and Discover Your Colours
If you're sick of wasting money on clothes that don't work and you know there is a better way, then join my 7 Steps to Style program and get the right information for you and your style.
Subscribe to my Podcast
You can now get these videos as podcasts subscribe and never miss an episode
Send me Your Questions
Please email me your questions to be included in my Q&A Lucky Dip!