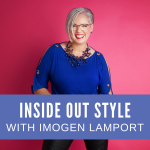 In This Episode
0.10 What to wear when you've got light colouring but are overweight and feel light colours make you look larger?
4.11 How to choose the right jeans rise for your body
7.10 How to avoid expensive purchasing mistakes and to define your informal occasion style
Light Colouring Dressing Tips
Style Rules for Building a Wardrobe of Classic Staples When You Have a Light Ideal Value
How to Get the Right Contrasts and Value with an Inner Column of Colour
Choosing the right jeans
Shopping clothes to flatter
If You'd Like to Define Your Style and Discover Your Colours
If you're sick of wasting money on clothes that don't work and you know there is a better way, then join my 7 Steps to Style program and get the right information for you and your style.
Subscribe to my Podcast
You can now get these videos as podcasts subscribe and never miss an episode
Send me Your Questions
Please email me your questions to be included in my Q&A Lucky Dip!