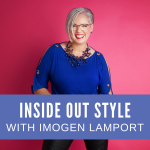 In This Episode
0.10 Is it perceived as more friendly and open to blend in with others or be more toned down? Should I be more unique as it relates to my personality?
4.13 I've got lots of one-off pieces in my wardrobe but nothing goes with anything? How do I think about my wardrobe so it's not like several jigsaws that will never join up?
6.51 My challenge is to look good and stylish and not look silly. I wish to learn how to not buy random pants and sweaters and keep them in my closet forever but never wear them.
Personal Style
How do I Find the Right Neutrals to Act as an Anchor for My Wardrobe?
Mix and Match Clothes
How to Create a Stylish Outfit? What Are Your Criteria that Makes it Great?
Developing your Style Recipe
How Often Should You Re-Evaluate Your Style Recipe and Colour Palette
8 Ways to Look Stylish in a Casual Environment when Jeans are Not Your Thing
If You'd Like to Define Your Style and Discover Your Colours
If you're sick of wasting money on clothes that don't work and you know there is a better way, then join my 7 Steps to Style program and get the right information for you and your style.
Subscribe to my Podcast
You can now get these videos as podcasts subscribe and never miss an episode
Send me Your Questions
Please email me your questions to be included in my Q&A Lucky Dip!