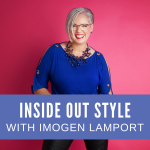 In This Episode
0.11 Where do you buy your necklaces from and what's your low price point to find the quality you want?
4.22 My challenge is to find clothes that I'm comfortable wearing but lack confidence in trying new styles (and typically wear jeans and a tee)
9.38 I've got some lovely and more dressy shrugs/boleros and want to know how I can wear them with more everyday outfits
Adding Elements
Where to Find Unique, Interesting and Low Cost Accessories to Add to Any Outfit
How to Choose Accessories to Match Your Personality and Occasion
Tips when you are stuck in a style rut
How to Include More Interest and Unique Colour Combinations in Your Outfits
How to Take the Extra Step to Complete and Upgrade Your Outfits
Layering Clothes
If You'd Like to Define Your Style and Discover Your Colours
If you're sick of wasting money on clothes that don't work and you know there is a better way, then join my 7 Steps to Style program and get the right information for you and your style.
Subscribe to my Podcast
You can now get these videos as podcasts subscribe and never miss an episode
Send me Your Questions
Please email me your questions to be included in my Q&A Lucky Dip!