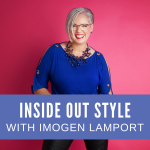 In This Episode
0.08 I don't feel comfortable in the clothes and styles I think I like. I'm drawn to classic, preppy styles but feel frumpy in htme. I end up wearing more girly styles – why?
3.57 I struggle with layering – any tips?
8.23 I've got an O shape and carry most weight in belly and shoulders – I recently bought a ribbed cardigan that creates a V shape through the body – is this good for me?
Developing your Personal Style
Developing Your Style Recipe – Tips and Tricks from the Professional
Tips on Layering your Clothes
Choosing Flattering Cardigan
https://insideoutstyleblog.com/2014/09/how-to-style-a-waterfall-cardigan.html
If You'd Like to Define Your Style and Discover Your Colours
If you're sick of wasting money on clothes that don't work and you know there is a better way, then join my 7 Steps to Style program and get the right information for you and your style.
Subscribe to my Podcast
You can now get these videos as podcasts subscribe and never miss an episode
Send me Your Questions
Please email me your questions to be included in my Q&A Lucky Dip!