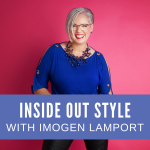 In This Episode
0.14 I've embraced my silver – white hair and now my old bright warm colours no longer suit me – what to do?
2.46 How do you layer your woollens in winter to stay warm and look stylish?
6.54 Casual chic – I've moved from city to country, and my style has been big city suits and now live in relaxed and casual country – how do I feel stylish and still be me in this new environment?
Tips when going Grey
Choosing Colours When You Have Grey Hair But a Warm Skin Undertone
How to Find Your Ultimate Colour Contrast – Your Three Step Process
How to dress up during Winter
5 Best Fashion Trends to Update Your Wardrobe this Autumn and Winter
How to Dress Casual in a New Environment
6 Things to Look for When Choosing Dresses and Skirts for Relaxed and Casual Environments
How to Be Contemporary and Casual in Classic Clothing Styles
If You'd Like to Define Your Style and Discover Your Colours
If you're sick of wasting money on clothes that don't work and you know there is a better way, then join my 7 Steps to Style program and get the right information for you and your style.
Subscribe to my Podcast
You can now get these videos as podcasts subscribe and never miss an episode
Send me Your Questions
Please email me your questions to be included in my Q&A Lucky Dip!