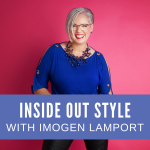 In This Episode
0.13 If you have to choose between a top in 2 necklines, ideally a scoop neck works best for your face, but they only have crew neck or V neck – I have a large bust – which will be the most flattering?
2.36 – My neck is getting flabby and turkey like – how do I dress so it's not prominent?
5.46 – how do you put focus at a balance point with a scarf?
If You'd Like to Define Your Style and Discover Your Colours
If you're sick of wasting money on clothes that don't work and you know there is a better way, then join my 7 Steps to Style program and get the right information for you and your style.
Subscribe to my Podcast
You can now get these videos as podcasts subscribe and never miss an episode
Send me Your Questions
Please email me your questions to be included in my Q&A Lucky Dip!