Whether you have a YouTube channel or post live videos or reels on your social media channels, it's important to consider what you're wearing. While it's essential to dress in a way that reflects your personal style, you also need to make sure that your outfit looks good on camera and doesn't clash with your surroundings.
1. Dressing for the Camera
When you're filming a video, it's crucial to wear clothes that look good on camera. While you want to express your personal style, you also need to keep in mind what will show up on screen. For example, small geometric prints can be distracting and may appear to be moving on camera. Instead, opt for solid colours that will make it easier for viewers to focus on you or more sparse patterns that don't appear to merge and blend in the video.
Know your body shape and the silhouettes that flatter it. Your body shape guidelines tell you where to put details to add focal points, where to use horizontal lines to broaden or balance, and where to use verticals to elongate and slim. Not sure of your shape? You can do my body shape calculator quiz here and grab your free body shape bible, or alternatively, if you want my professional opinion, join my 7 Steps to Style program where you get this and so much more to help you find your personal style and everything that really works for you.
Ensure that your clothing remains smooth and flat when sitting down to avoid bunching up. Clothing with excessive draping and folds does not translate well on camera. Often newsreaders will sit on the tails of their jackets, as it prevents their shoulders from rising while seated. Test out doing up your jacket and having it undone, try different styles of clothing to see which works best for your body. If you're sitting down, you want to see if the fabric clings to you as even the slimmest person may find that sitting creates rolls in the fabric when standing it looks smooth.
What do you want to project? Fun and lively? Then go for more colours and softer fabrics and potentially prints and patterns.
To project an authoritative yet approachable image, consider pairing a knit top with a well-fitted soft jacket that sits comfortably on the shoulders and front. Wearing a collar, whether on a shirt or blouse or as part of a jacket, is an effective way to appear professional on screen. It conveys a sense of seriousness and purpose.
2. Know Your Signature Colours
To make your outfits pop on camera, it's a good idea to know your signature colours. These are what I call your "wow" or "knockout" colours. The ones that are your very best – colours complement your skin tone, hair colour, and eye colour, and make you shine. If you were to receive a colour swatch that is totally personalised to you with only around 10 or 15 colours, it would be one that is all signature colours.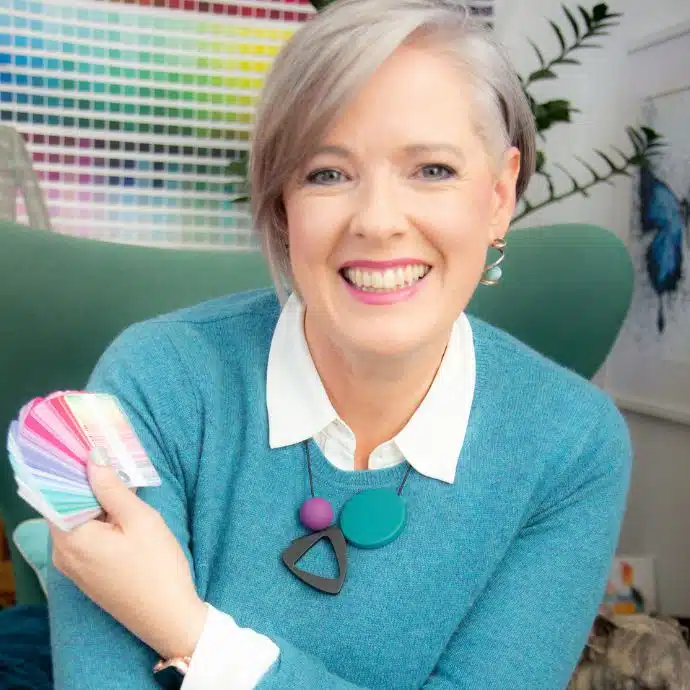 If you're not sure what your signature colours are, consider getting a colour analysis to find out. If this is something you're after, you get this as a stand-alone service or as part of my 7 Steps to Style program (along with also discovering everything about your body shape and proportions, how your personality influences your style plus so much more!). Find out more here.
3. Good Grooming
Good grooming is essential because it can have a significant impact on how you are perceived by others. Your appearance can influence the level of trust and confidence that others have in you, especially when it comes to business or professional settings. When you present yourself as clean, neat, and well-groomed, you send a message that you take the interaction seriously and that you respect the other person's time and effort. Additionally, good grooming can boost your own confidence and make you feel more prepared and ready to engage in meaningful conversation.
Cameras can bleach out colour from your appearance, this is why the makeup department is so integral in TV stations, you may need to wear a bit more blush and a brighter lipstick than you'd wear in real life as otherwise your features may fade away on screen.
4. What's In the Background?
The background colour can influence what works in a video too. If you sit in a high-back black office chair, wearing black will make you blend into the chair and look like a floating head. If you have a coloured wall behind you and the colour you wear clashes, it can be unpleasant to watch. If you have a busy background, avoid prints and patterns, instead wear a solid colour – ideally, a column of colour, as you will stand out against that background, this is why you'll see most female TV weather presenters wear a block colour dress so that they stand out from the map. Look at where you are filming and decide if the colours you're choosing work with or clash with your surroundings.
5. Express Your Personal Style and Brand
While it's essential to dress for the camera, never forget your personal style and your brand.
What is your personal brand (or business brand if you're making videos for a business)? What do you want to communicate? What are your values and is your outfit and image communicating what you want it to?
You might want to wear clothes that are relaxed and casual, but still feminine, or maybe something simple and relaxed but with a pop of drama or creativity to tell the world something about who you really are. Consider adding accessories like necklaces or scarves to make your outfits more interesting. You can also experiment with different fabrics and textures to create a unique look.
Dressing for your YouTube channel and social media videos can be a challenge, but it's also an opportunity to express your personal style and make a great impression on your viewers. By choosing the right colours and fabrics, and paying attention to how your clothes look on camera, you can create a look that is both comfortable and professional. Remember to be true to yourself and have fun with your outfits, and you'll be sure to create a successful channel that reflects your personal style and passion.
Find Out More