When it comes to creating a style that fits and flatters your body, it can often feel overwhelming and confusing. You may have a sense of what your personal style is, but have difficulty translating it into something that looks good on your unique body. However, with a few key tips and tricks, you can create a wardrobe that highlights your best features and makes you feel confident and stylish.
Know Your Body Shape, Proportions, and Variations
The first step to creating a flattering style is to understand your body shape, proportions, and variations. Knowing this information will help you determine which styles and shapes work best for your body. For example, if you have an H-shaped body, you may want to draw attention to your upper body and keep your waistline free of detail. In contrast, if you have an A-shaped body, you have a smaller upper body and a larger lower body. You should focus on drawing attention to your upper body with clothing that accentuates your waistline and creates balance. Understanding your body's unique features will give you a roadmap to follow when selecting clothing.
If you're not sure of your shape, head over to my body shape calculator quiz, then download your body shape bible with tips and tricks to flatter your shape.
Your body shape, proportions, and variations are part of your Style Puzzle, a group of elements when they all go together define your personal style. These puzzle pieces are just the start too. You can delve into them and branch out to discover more and more!
Determine Your Party Zone
Identifying your party zone means understanding the areas of your body where you want to draw attention. These areas may be your legs, arms, or décolletage, and they are the parts of your body that you want to highlight with interesting details or colours. By contrast, your boring zones are the areas that you want to keep free of detail. For example, if you have wider hips, you may want to keep your lower half free of patterns or bright colour, though there are ways you can make these work when you know my professional secrets.
Watch the Video for More Tips and Tricks to Creating Styles that Fit and Flatter Your Body
Dress for Your Size
Another important aspect of creating a style that fits and flatters your body is dressing for your size. Do not try to squeeze into a smaller size, as this will only make you look uncomfortable and unflattering. On the other hand, wearing clothing that is too loose or baggy can make you appear bigger than you are. Instead, focus on finding clothing that fits well and accentuates your curves. Consider investing in tailored pieces that can be adjusted to fit your body perfectly.
Place Your Horizontals Strategically
Horizontal lines can be flattering, but they must be placed strategically to avoid widening certain areas of your body. For example, you should avoid placing a horizontal line at the widest point of your hips or thighs, as this will make those areas appear larger. Instead, consider placing horizontal lines at narrower points on your body, such as just below the bust or at the waist. Discover my 3 rules of horizontal lines here so that you know exactly where to put the on your body.
Use Vertical Lines to Elongate and Slim
Vertical lines can be used to elongate and slim areas of your body. If you want to make your legs appear longer, choose trousers or skirts with vertical details. Alternatively, if you want to slim down your torso, a jacket with horizontal lines can create the illusion of a slimmer silhouette.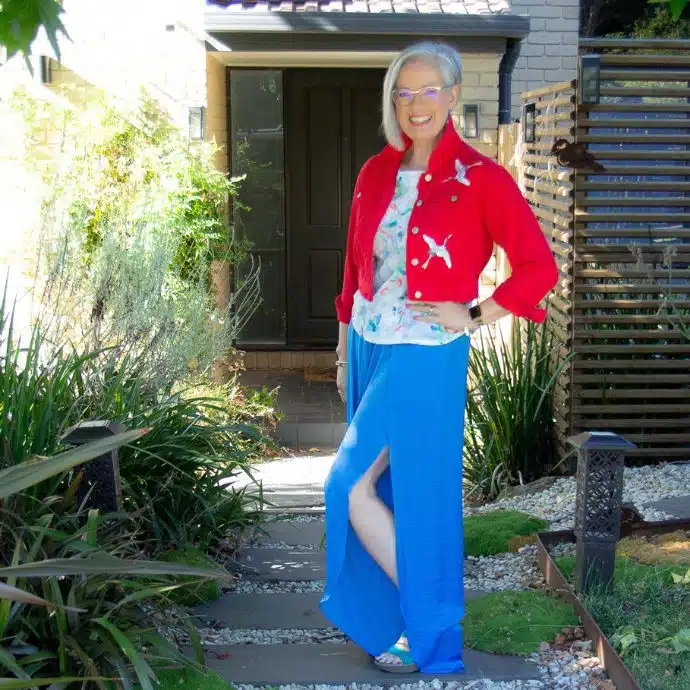 Experiment with Colour and Texture
Once you have a solid understanding of your body shape and the types of styles that flatter you, it's time to experiment with colour and texture. The right colours and prints can enhance your skin tone, hair colour, and eye colour, while the wrong ones can make you look washed out or unflattering.
Choosing fabrics and colours that you love will help you feel confident and stylish in your clothes. Don't be afraid to try something new or bold, as long as it fits within the framework of your personal style and flatters your body.
Creating a style that fits and flatters your body takes time and effort, but the payoff is a wardrobe that makes you feel confident and stylish.
Get Your Style Education
The best thing you can ever do for your style and purse is to get an education in style and colour, so that you know which fabrics, colours, patterns, styles, silhouettes and scale of garments and details work for the unique you. In the long run it saves you so much time, energy and money and is a great investment in you. You'll reap the reward of greater confidence and a fatter pocket-book as you stop wasting money on the wrong clothes. In my 7 Steps to Style program, you get that education as well as my professional opinion on your face and body shape, as well as your colours so that you can make the best choices when shopping and putting outfits together.
Further Reading
How To Dress in a Way That Makes You Feel Consistently Stylish