The Style Conundrum
Clothing manufacture is a big polluter of our planet, yet we have to wear clothing for our entire lives.
Clothes also wear out, so they need to be replaced too. You can't just buy one set o clothing to see you through the rest of your life!
So how do you become a more careful and conscious clothing consumer?
Reading this blog will certainly help you make better choices, so, therefore, fewer mistakes, which cost not only your back pocket a lot over time, but also our planet. Having an image consultation such as my 7 Steps to Style program is another way to arm yourself with the information you need to really make good and sustainable fashion choices too.
Jill Chivers of Shop Your Wardrobe and 16 Style Types and I discuss this and share some ideas on how you can become a more conscious shopper and still remain stylish!
Where You Purchase Your Clothing and Accessories From
How long you keep your items
How you dispose of unwanted or worn out items
These are just three of the things you need to consider when becoming more conscious about your fashion and style choices.
So how do you stay stylish and also only leave a gentle footprint on this glorious planet of ours?
Start with the 5 Rs of Sustainability
Reduce – Reuse – Repair – Re-Vamp – Recycle
1. Reduce Your Impact
Consider Your Fabrics
How sustainable are your fabric choices? As much as a cotton tee may seem like a cheap and good option, is this so? Did you know that the environmental cost of cotton production is very high as it's a water-hungry crop? If you live in a drought-stricken country like Australia, you realise that water is a precious precious resource that should not be squandered lightly.
So when choosing a cotton garment, it needs to be high quality, in a garment shape, colour and style that I love, and that I plan to keep and wear repeatedly for at least 5 years. My denim jeans that are worn multiple times a week for years are a good and sustainable cotton-based fabric choice.
The cheap tee shirt in a lower-grade cotton that will sag and stretch out of shape and then shrink in the wash is not a good one!
Knowing which fabrics disintegrate more quickly is also important, I've learned that anything with more than 3 different fibres will not wear as well as a garment made from fabrics with 3 or less fibres mixed together.
But then there are fabrics, such as acrylic, that even when 100% one fibre, wear very poorly, and your garment will be looking shabby and old within a handful of wears! Do not bring anything acrylic into your wardrobe!
Recruit only the best
Here is another thought, one that I'm sure you'll agree with, is that by acquiring only the right items for you (just as an employer is keen to recruit the right employees who have the right skills and abilities for the job which they are to perform) is essential.
If you don't think about recruiting the right colours, shapes, and styles of clothing to your wardrobe to start with. If you don't really consider the comfort of the new shoes you are about to purchase, then it's post-recruitment that you suffer the consequences of a poor choice.
You will want to:
Shifting the emphasis from what to do after you've made a bad purchasing decision to one that is upfront, only bringing the best into your wardrobe will make it a much more sustainable place with so many fewer regrets!
Do You Love it More?
This is a great test to see if something is good enough to come into your wardrobe – ask yourself do you love it MORE than what you already own, as you are going to give something away (one-in-one-out) if you bring this new item home with you. If you can't think of anything in your wardrobe you love less than this new thing, then it shouldn't be coming home with you!
What's the Source?
Who is making my clothes and accessories? How are they treated? Am I happy to be contributing to their livelihood?
There are many lists of good and poor clothing manufacturers which you can look up to see who is naughty and who is nice! Be careful of greenwashing, which is where companies claim to be eco-friendly but are not actually following proper processes.
Will It Need Special Care?
Does a garment require dry cleaning or some sort of special care? This is adding additional environmental and time costs to it – the dry cleaning chemicals, the time and effort to hand wash – how will this impact on your wear of the garment? If you're anything like me, you may choose not to wear a garment, knowing it has special cleaning care requirement, and so decide that the garment is "work" and so ends up unworn in your wardrobe, even ironing for one people stops them from wearing a garment more frequently).
2. Re-Use What You've Got
You certainly don't need a new outfit for every special occasion. Why do we think that we do? Are we so worried to think others will think less of us if they see us in the same clothing more than once or twice?
It's great that even fashion icons are now lauded for wearing the same garment and accessories more than once in public! Vintage is fashionable and sustainable too.
Wear it Again and Again
How many ways can you think of to style the same garments? So many of us wear the same clothes just one way, rather than seeing if we can find multiple ways to wear them, in different combinations and outfits – giving them a much greater lifespan and use than they would otherwise get.
I love to challenge myself to put together new and different outfits with what exists already in my wardrobe (shopping your wardrobe) and you'll see the same garments appearing in outfits over multiple years here on Inside Out Style.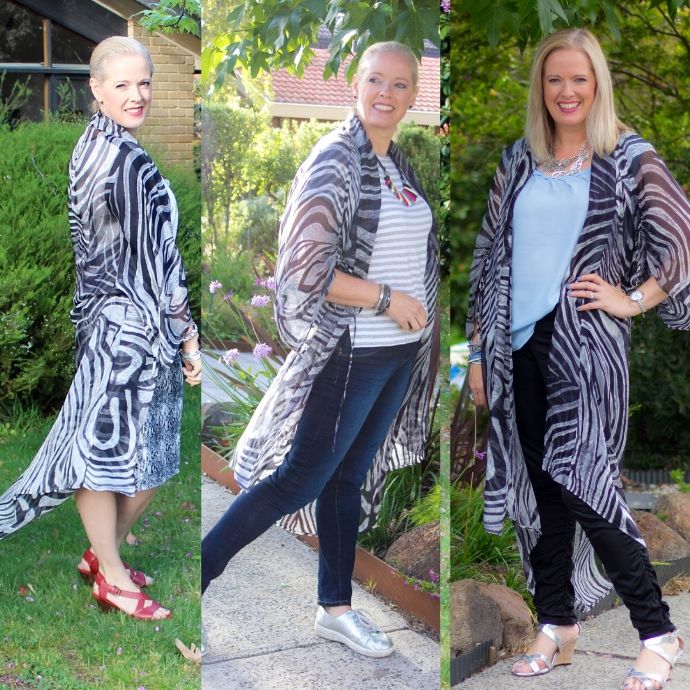 3. Repair What's Broken
Instead of throwing out, because your sweater is a little pilled or a hem has come down on a garment, can you repair it? It's not hard to sew on a button, make a small alteration and to fix that zipper that keeps coming down.
4. Recycle What You No Longer Love or Wear
Pre-Loved Shopping
This is a great option for giving clothes that were not wanted by one person a new life in another's wardrobe. Making decisions more quickly about your purchasing mistakes and letting items that can't be returned to their source to the world of thrifting and or resale will ensure they get more love and wear, than holding onto them in your wardrobe or a long time before letting them go.
Remember fashion is like milk, it goes off over time, so allowing your fashion mistakes to be someone else's fashion finds more quickly will ensure they have a more sustainable life.
5. ReVamp
One of the things I often look at when doing a wardrobe audit and assessing clothes, particularly those that have been loved and that are no longer fashionable, I think about if there is a way to update them, to revamp them into a more modern shape or style (particularly if there is still good wear left in the fabric).
Often a dart here or there, and an altered hem, or a change of buttons can make an older item look like new again.
Upcycling
If you have the talent, the means, the imagination to upcycle older pieces of clothing, this is a great way too to help build a more sustainable fashion future for us all.
Sustainable Fashion Resources
Jill has reviewed the book

How Long Will Your Clothes Last Before They Wear Out?
What is Trans-Seasonal Dressing and How to Use it to Get More Mileage From Your Wardrobe
Please also share your tips, ideas and resources here in the comments!