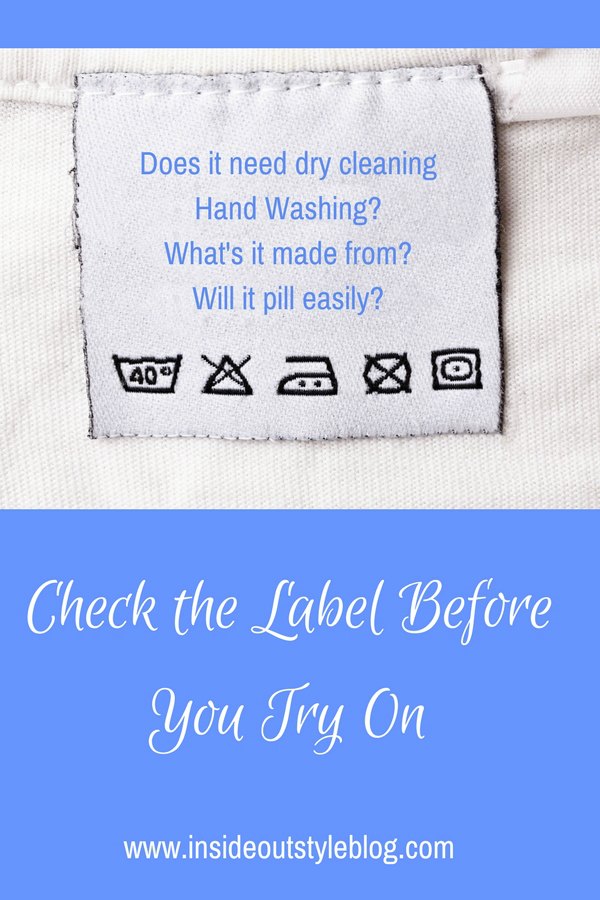 Before I purchase anything (in fact before I even bother to try it on, as I don't get naked if it's not got some chance of working), I always, always, always check the label on the clothes for:
Fibre content
Care instructions
Why is this?
Well I know that some fabrics pill easily (you know get those nasty little balls that make the garment look worn out), which means there won't be a long lifespan for the garment, and I want to buy what lasts for my wardrobe.
Now I don't sweat a lot, but I know some people are, and synthetic fibres like polyester tend to hold in the sweat and start to smell (which is not pleasant either). So if you do sweat more, look for fibres that have higher percentages of natural fibres.
But, 100% natural fibres tend to have less stretch (or none if not a knit) and they may crease more. This is why you will see blends, as they do make the garment easier to care for and need less ironing.
What pills easily?
Polyester
Acrylic (I just won't even buy this as it pills after one wear!)
Nylon
Wool (lower quality wools with shorter fibres – these ones usually feel itchy to the touch)
Cotton (lower quality with shorter fibres, these won't feel as soft to the touch)
Knits are more likely to pill than wovens, as a knitted fabric is less dense and so there is more movement in the fibres from arms and seat belts rubbing on the fabric. When you wear them, wash and dry there is a lot of rubbing of the fabric, which makes the ends of the fibres ball up and turn into these pills. This is why air drying (not tumble drying) your knits will prevent them from pilling as quickly.
Fabrics that are less likely to pill include tightly woven fabrics and fabrics made from tightly twisted yarns (this is why higher quality wool and cotton don't pill).
Now how you look after the garment will also make them pill more easily too.
Check the Care Label
Can it be machine washed?
How about tumble dry?
I hate dry cleaning and hand washing, so I want to make sure that I don't resent my clothes.
Why would I resent them?
Well if they require hand washing, that's just "work" in my eyes (and I've got enough work without having more in the laundry than absolutely necessary).
And dry cleaning = cost. That garment becomes more and more expensive as each time I wear it, if I drop my lunch on it, then it needs cleaning and there is a dollar cost to dry cleaning (as well as a time for me to go to the dry cleaners).
This is why I shun dry cleaning for all clothes except very special occasion wear and jackets.
If you can do a gentle machine wash instead of a hand wash – I'm totally fine with that!
And then I do the Crush Test
What's that? Grab a handful of the fabric and screw crush it in your fist. See if it springs back (leaves few or no lines) or it crumples (cos then when you sit down in the car or on the train, or in front of your desk for a short while, when you stand up you will be all crumpled looking.
I hate ironing at the best of times, so I don't want my outfit to look all crumpled up moments after I have ironed it!
Tell me, which fabrics do find pill the least?
Which fabrics don't need much in the way of ironing?
What do you always avoid?