I've been asked to talk about choosing makeup, and selecting the right colours is such an important part of this. So I've made a video to show you some tips on selecting the right colours for you so that the makeup enhances your natural beauty.
Choosing The Right Makeup Colours
What you'll find if you're wearing the opposite undertone colours to your skin, is that the makeup becomes really obvious, as the colour stands off your skin. This means that the application of a makeup colour that does not relate to your natural colouring has to be perfect, as we really see the makeup.
When choosing colours – use your colour palette (if you have one, and if you don't – you can get one as part of my 7 Steps to Style program – it's such a great tool that helps you choose hair colour, makeup colours, nail polish colours as well as the colours for your clothes and accessories, plus makes your clothes so much easier to mix and match as the colours work harmoniously together).
Hold the palette near the makeup colours you're considering. They should relate to the colours. Makeup is often softer and more muted (particularly blush/eyeshadow) than the colours you might wear in clothing, but you're looking for the same undertone.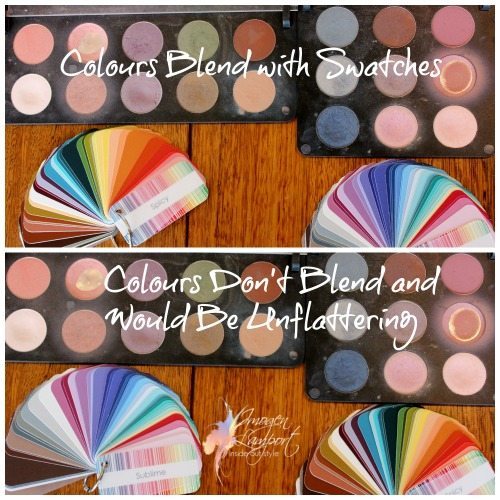 So a blush colour should relate to the "pink" section of your colour palette. If you have a warm undertone then your pinks are more coral/peachy, so your blush colour should be in this range. If you are cool then your pinks are rose pinks (avoid those peachy or coral shades).
The same goes for choosing lipsticks.
Be careful, you often can't tell just how bright or light or dark a lipstick is when looking at it in the tube. Always draw on your skin first to assess this. Then ideally, try it on your lips (get more tips on choosing a lipstick here), as your underlying lip colour will change how a lipstick looks on you.
If you suit a brighter palette of colours, then a brighter lip colour will suit you. If you have a more muted intensity, then go for more subtle lip colours.
Tips on Choosing Makeup Colours