Sponsored by Airpufs
I have a reasonably sized shoe collection (my husband would say large, I say reasonable) which I've gradually acquired over many, many years (actually I still have two pairs of shoes from the mid 90s). One of the reasons I have so many is that when I was about 19 years old I complained to my doctor about foot pain, and he told me to wear different shoes every day. So, I took his medical advice, literally, and started acquiring more shoes so I could wear different shoes every day.
Shoes can make (or break) an outfit too. As shoes add:
They work on so many levels and are an integral part of any outfit, so having a range of shoes to choose from depending on what I'm doing (running errands versus giving a corporate presentation) means sometimes I can wear flats (actually, much of my life I'm in flats or near-flats), but other times, a heel just finishes off the outfit so much better.
I have a range of heels and I categorise them like this:
Car to the bar (aka sitting only)
2 hours
4 hours
Yes, 4 hours is mostly my limit these days for a heel (wedges are a different story if they are on the flatter side). But of course, there are occasions when I want to wear a heel all day, for example to a wedding or special event (such as Christmas parties), where I may want to do a little dancing too along with some of the standing-around that tends to happen at such events.
My life is not hugely glamorous, not filled with red carpet events or parties (I know, you're stunned at this piece of news), but I do try and take 10 000 steps a day. Some of them on a morning run or walk, the others just as part of life, from personal shopping trips which average out for me over 4000 steps in 2 hours to trips to the supermarket.
I'm not one of those people who have either a padded bum which means I can't sit on hard chairs for long either or padded balls of my feet meaning I can't walk on hard surfaces in any sort of heel normally for more than a few hundred steps before pain strikes. So when Airpufs, who make inner soles that are cushioned with extra-spongy, extra-comfy, super impact-absorbing medical foam (normally used for injured athletes and delicate patients such as diabetics) that is like a marshmallow with pockets of tiny bubbles, asked me to add some to my shoes, I sure was keen to try them out. These are unlike any other mass market brand of inner-sole.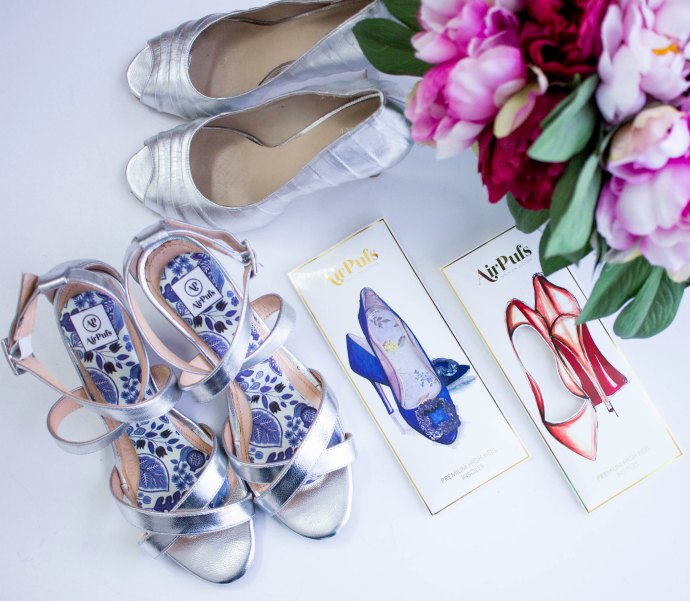 I've got these gorgeous silver wedges which are in the 2-4 hour range for me at present as they have a little padding built in, but not enough to last me for a full day of running around. I added in a pair of Airpufs to see how much longer they make wearing a heel on an average kind of day. With their 3mm thick sole they fit comfortably into shoes as they are not too thick so you don't end up with uncomfortably squeezed toes. This is so vital as with my bunions I often find in closed shoes that an inner sole takes up too much space and makes the shoes too tight and irritating. Plus you can remove them carefully from one pair of shoes and pop them in another.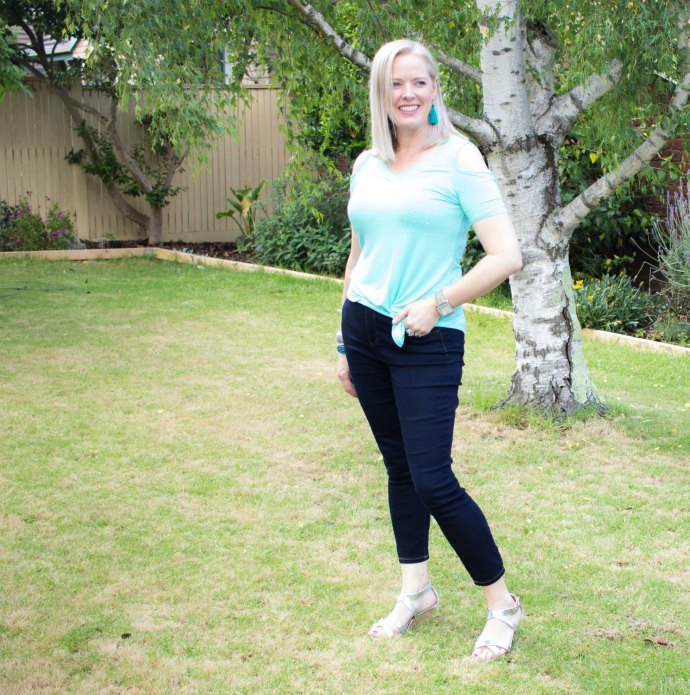 Day 1 – errand day with a trip to the hairdresser, the supermarket, ducking into my daughter's school and the usual running up and down the stairs to and from my office. At the end of the day, my feet were still fine, I wasn't desperate to take them off and I loved that they kept my feet from sliding forwards which happens so easily in heels.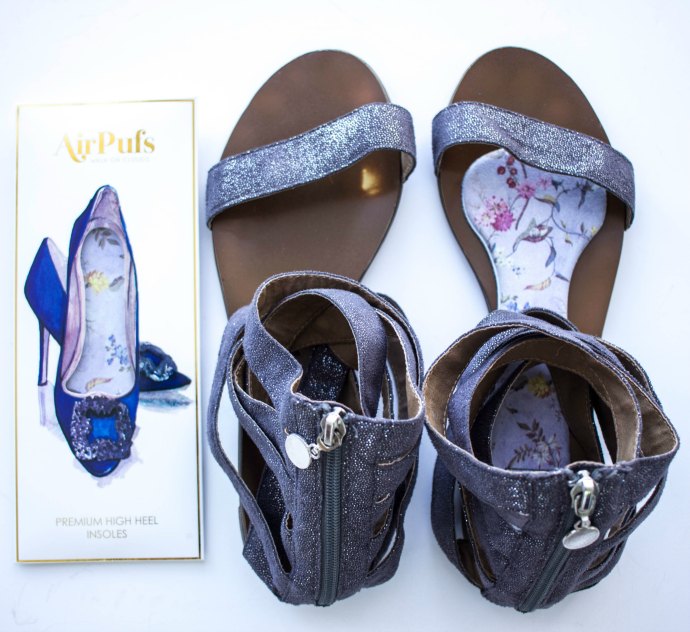 Day 2 – I popped an Airpuf into a flat shoe that has not one teeny-eeny bit of padding. They are rock hard already and when walking on the solid, tiled surfaces of the mall (and there is a lot of hard tile in malls, and very little carpet) and even when wearing flats or low heels, my feet normally get tired and sore, so I thought I'd try a day out shopping with an Airpuf in one shoe but not the other. Immediately I noticed how cushioned my right foot felt compared to my left.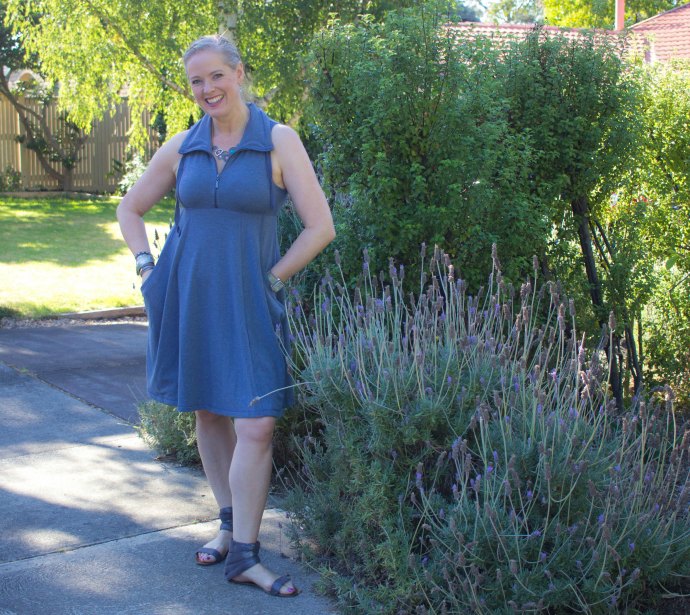 At the end of my day, I notice a considerable difference between my right foot (with the Airpuf) and my left foot (without). In fact, I straight away stuck in the 2nd Airpuf into the left shoe.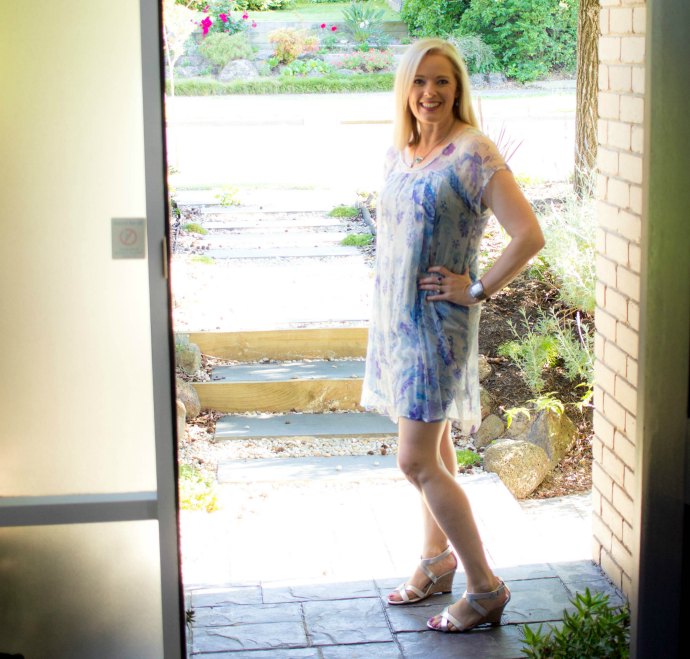 Day 3 – Hot Melbourne day (in the mid 30s celcius) and back to the wedges with a silk summer frock. The sandals I used to wear this dress with fell to pieces last summer, and as I'd had no issue with my feet and these wedges now they had the addition of the Airpufs, I decided to wear them again, not only cos they work well with the dress, but also because the comfort level means they are now 8 hour shoes and my feet stay cushioned and dry even in the heat!
Yes, that's right – I've now got an 8 hour heels because of the Airpufs and I do also love how pretty the Airpufs are – with so many designs to choose from you can reflect your soul style with your insoles!
If you've got an event coming up, or just want to make your shoes more comfortable every day, try out some Airpufs High Heel insoles at $16US a pair (with worldwide shipping only $5), and then you'll truly be walking on Airpufs!