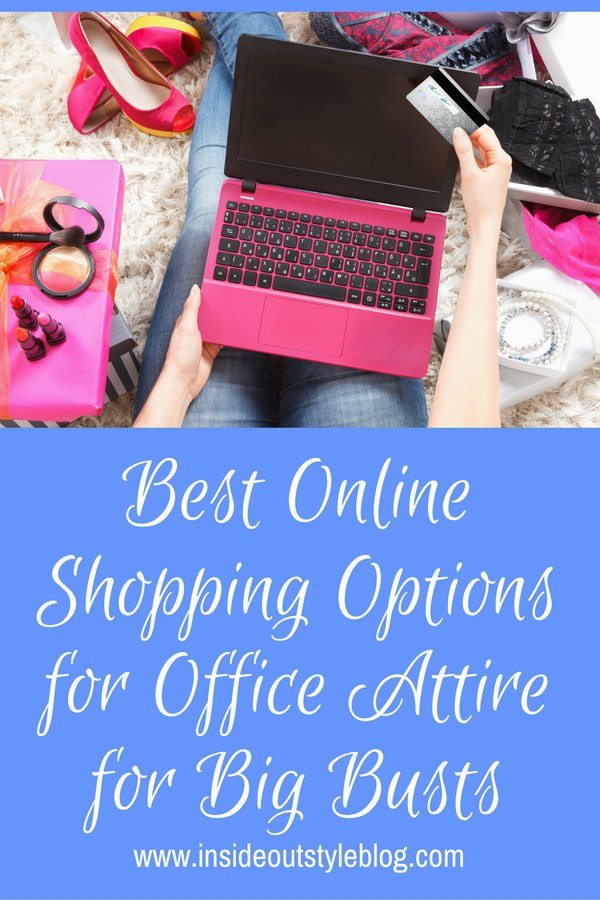 Looking for office attire to flatter your big bust? Need to find smart clothes that fit over your bust (would you like to be able to get that jacket buttoned up?). Then look no further. Canadian large busted reader Orsi is sharing her review of some of the online busty retailers to help all of you who struggle with finding work appropriate office attire for your big bust.
Online Retailers of Office Attire for Big Busts Review
by Ms SmartandBusty
When my first put me into bra size that was not available locally, I have started to order bras online. Since only UK lingerie brands seem to have sizes I needed, I started to browse UK online lingerie retailers. While I was shopping for bra online on a UK lingerie website, I realized they actually also producing clothes for women like me.
I tried them out, and never looked back ever since. As years passed by newer and newer companies entered the busty retailer market, and the selection grows by the day. Since there are so many, first I review the companies producing clothes for you professional needs, and the second post will review the companies that produce a bit more casual clothes.
For easier comparison, I converted everything to US dollars and mention US size equivalent.

Pepperberry/Bravissimo($$$)
The first and biggest company in the market, the child of the huge UK lingerie chain Bravissimo. Besides online shopping; they also have over 20 brick and mortar stores all across UK. All stores, including website carry both Bravissimo lingerie and Pepperberry clothing.
Sizing:
Bravissimo invented the 2 dimensional sizing; first dimension is based on waist regular UK 8-18 (equivalent US 4-16, Australian ). Second dimension based on bust size.
For tailored item they have 3 size:, Curvy(C ),Really Curvy(RC) , Supper Curvy(SC).
For knit/ stretchy items they combine 2 curvy sizes and come in C/RC and RC/SC sizes.
Selection:
Everything from knit tops and cardigans, blazers, winter coats, extremely fancy formal evening dresses, beach dresses.
You name it,, they have it and large quantity of it.
Do not worry; it is not going to sell out in a week or even in a month.
Their selection is only short on matching bottoms for the blazers, which is a pity.
Style:
They market for the 30-40+ crowd middle class English working women.
Used to be very classic- feminine English countryside preppy style, but lately they started to offer more modern pieces like moto jacket and bolder prints and brighter colors.
Prices/Quality :
Usually good/ great quality.
Prices $45-50 for tops, $70-130 for dresses, $175 for a winter coat.
Payment/Currency/Language:
English website, prices are in English pounds.
Accept all major credit card, No Paypal.
Shipping:
Flat rate, UK is$6, EU countries $9, rest of the world $12. Ships from London, I receive their parcel about 2 weeks in Canada
Newsletter/Catalog:
Electronic newsletter about new product, and sales, but way too often for my taste.
Separate sign up for actual paper catalog , once every season.
Sales/Discount:
They do have regular sales like Christmas or Mothers' day , but only 10-20% discount, and sometimes free shipping t o UK residents.
However, half of the stuff makes it to the season end, when they mark it down permanently.
Additional info:
They design best suitable probably for women 5'2" to 5'6". I completely gave up on ordering tailored items because they always short for me.
They do provide length measurements on the website and large amount of reviews and shows the height of the reviewer.
They also have excellent customer service, and they go great length to help you in sizing.
DD-Atelier ($$$)
Russian retailer with a single brick and mortar store in Moscow.
Sizing:
2 dimensional sizing, same structure as Pepperbery. First dimension range 65-85 (equivalent to US 00-12).
Second dimension called D, F, H representing the approximate UK cup size.
Generally their size chart is very acurate, but sometimes a bit snug.
Selection:
Nowhere near the quantity and variety of Pepperberty, but they do have almost everything , tops, button shirts, blazers/ jackets, trench coat, winter jacket.
They also carry skirts that harmonize with their tops and matching their blazers making easy to buy professional suit.
However quantity is very limited and they do not replenish.
Style:
Most items are timeless classic, kind of elegant chic with a bit European vibe.
Prices/Quality :
High quality fabric and exercise great workmanship and the price reflect that.
Tops start at $25 for t-shirt, but can go upto $60, dresses $80 -120, trench coat $150, blazers/ jackets $80-100
Payment/Currency/Language:
English only website either USD or Euro currency.
If you know Russian, you can explore their Russian website, there are some items that sold out on the English website, but still available on the Russian site, it also has lingerie.
Shipping:
Flat rate $10 worldwide shipping. Ships out from Moscow and North American delivery can take 3-6 weeks.
Return can be sent within Us & EU.
Newsletter/Catalog:
Best source of information is their facebook page, they post every new product and every sale there.
Sales/Discount:
Lots of small scale ad-hoc sales announced on facebook page an the website like 25% dresses for a weekend, or t shirt 2 for 1 for a couple of days.
They also permanently mark items down at the end of season, but very few item and size makes it there. If you see something and want it, do not wait for go on sale.
Additional info:
Good fit for taller women.
ST Bustier ($$$$)
This is a UK premier designer brand, which I often window shop at, but until I graduate this is not in my budget.
Sizing:
It uses simple UK 8-18 sizing( ~US 4-16) , and claims to fits upto UK G cup bra size.
Selection:
Huge selection in dress, but carries tops, blazer jacket with matching skirts, and coats. Also carries a few lingerie/ spandex
Style:
High end items that screams money, so I guess it is elegant chic style all the way.
Payment/Currency:
English £, Major credit cards, no paypal
Shipping:
Flat rate based on location and speed, overseas shipping is $30
Newsletter/Catalog:
Prices/Quality :
Great quality I read, but full retail prices all over the place and can be insane. The grey blazer on the picture is $700 and the matching pencil skirt is $400. At the same time the cute polka dot dress is $120 , albeit it is polyester.
Sales/Discount:
Things can go to very deep discount half price or less.
More retailers to check out:
There are a few other smaller busty retailers that sell a couple of collar shirts and work tops, but nothing else.
One of the most informative busty blogs (Hourglassy) has a complete list, so I won't repeat it but here is the link.
Find out more about casual and swimwear retailers for large busts here.