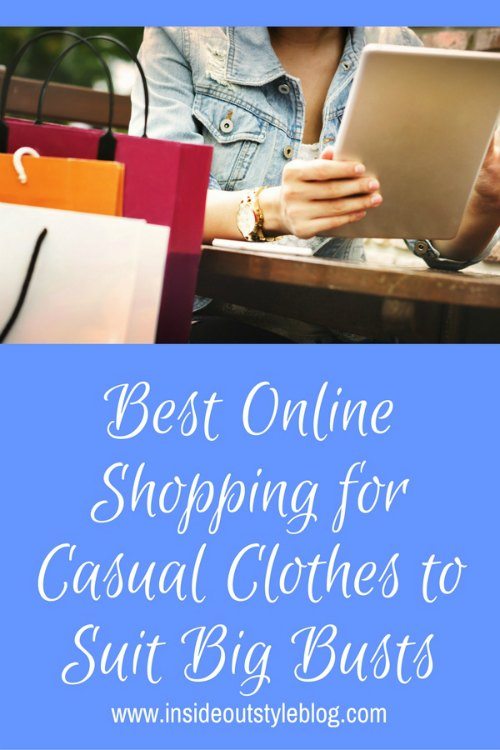 Online Busty Retailers Overview- Part II
Review by Ms SmartandBusty
These busty retailer are more casual, but some of them still produce many items that is suitable for professional office wear.

BiuBiu ($-$$)
BiuBiu is a Polish company with a single brick and mortar store in Lodz.
Sizing:
2 dimensional sizing with the same structure as Pepperberry, First dimension EU 34-46(~US 2-18). Second dimension called B, BB, BBB,
Selection:
tops, dresses, some blazer/jacket /boleros they just introduced their first coat last fall.
Style:
They have variety of element from classic to feminine to dramatic, but generally simple modern lines.
Prices/Quality :
Much cheaper often half price of Pepperberry, and the quality not much worse, sometimes just as good.
Knit tops retail price start at $20 , button up shirt $35, blazer $50 , dresses $35-$50
Payment/Currency/Language:
Bilingual website Polish/English , can view prices in USD, GRB, EURO , check chrone or polish zloty.
Paypal only if you are not in Poland
Shipping:
Based on weight categories.
A single knit top ships for $4 worldwide, and max out around $30 for multiple heavy items to North America, (Australia a bit more).
Newsletter/Catalog:
No newsletter, but everything is announced on their very active facebook page.
For some reason, they have separate Polish and English facebook page and often the post the a day later on English page
Sales/Discount:
No regular sales, rare ad-hoc discount.
They do mark things down at the end of season, but popular item do not make it there, or maybe only in very few sizes.
They give discount to loyal customers. I buy from them maybe for 3-4yrs and I get 8% off on everything.
Additional info:
Usually good fit for taller women, but read the length on each item.
My pet peeve with them is their inconsistent sizing on the tailored item especially blazers/ jackets.
Knits sizing is fine.
Also layering pieces can sell out incredible fast as they only stock a few pieces in each size.
Urkye ($)
Urkye is a tiny Polish company without any brick and mortar store that only release maybe a dozen simple smart casual styles a year. There is a few other online retailers carries they stuff, you can find the link on their website under stationary stores.
Sizing:
Pepperberry style 2 dimensional sizing, first dimension EU 34-44( ~US 4-16), second dimension called O,OO,OO.
Knit items are very stretchy, runs big you can easily size down if you like fitted, but woven items are true to the size.
Selection:
Knit tops and dresses, basic button shirt and casual blazer.
Each style comes in ~4colors and usually only 2-3 pieces in each style; some sizes/colors sell out within days of release
Style:
Prices/Quality:
This store is as cheap as it gets, but with nice cut and decent fabric.
Knit tops between $15-25, knit dresses $30-$45, collar shirt $30, heavy ponte blazer$50
Payment/Currency:
Although the site is bilingual Polish/English, all prices posted in Polish zloty.
Accepts only paypal.
Shipping:
Based on weight category.
For most places the cheapest category is ~$7.50 that fit ~ 2 knit top.
Highest shipping category is around $25 to North America, but that is for multiple heavy items.
Newsletter/Catalog:
Worth to sign up for newsletter, because they have so few releases a year and for the price they charge things fly out in popular colors/sizes.
Sales/Discount:
They do have sales time to time, but they full prices already so cheap it doesn't worth to wait for sales if you like something.
Also have loyalty discount, max out at 10%.
Additional info:
They make garment for 40 cm back length from neck to waist.
If you read something is 24cm from the waist it means it is equivalent to a 64 cm top length.
Best CS ever!
They hem things for FREE bottom of skirt/ top or sleeve, but such request obviously makes things un-returnable.
Bolero beachwear($$$)
Bolero Beachwear is US company started maybe 2 yrs ago with fun patterned beach cover-ups and easy breezy sleeveless beach dresses.
Uses simple US sizing XS-XL, but usually the bust area has drawstring adjustment and everything very stretchy with like 10% spandex content.
They only have beach cover ups, dresses, and a couple of tops.
Some of the pattern maybe office friendly, but generally I would say they are nice vacation wear that you take to a tropical cruise to be sexy and having fun .
All made in the US, so no sweatshop labour was used, but the price reflect this USD$120-$150 for a polyester/spandex beach dress, but shipping is free for US.
No international shipping policy stated on the website, but when I contacted them, they were more than happy to figure it out for me.
Bitter Lollipop
Bitter Lollipop is a one person company used to be located in the UK, but owner just moved to the US this year.
Because of the move she sold things out and the new collection did not come out yet, but supposed to be on 2016 August.
She uses 2 dimensional sizing and mainly have dresses and tops.
I did not get the chance to try it yet, because when I find it, my size was sold out in everything and was no new items due to the move.
AJ Rumina
AJ Rumina is a US based company, which are in the business for 6+ years, but they have only 6-7 items.
Plus they are the exact same now as it were 2 yrs ago when I tried them, maybe a new color here and there.
I bought their ¾ sleeve tee, which did not had darts, or princess seam, but the sides were sewn curved instead of straight line. It wasn't even made from a very stretchy material. Plus the 100% pre-shrunk cotton shrunk in the wash.
Shipping is flat $10 domestic and $15 international
Read Part 1 of Where to Buy Clothes for the Office to Suit a Large Bust