I love being inspired by my blog readers styles. I met the author, Lisa of this blog post in Chicago a couple of years ago at an Evolve Your Style lunch and think that her style is inspirational for many who want to become more creative in how they put together their outfits. I asked Lisa to write this post after seeing many of her outfits on our Evolve Your Style community forum and wanted her to share her thought process with you. I hope you find inspiration in Lisa's post!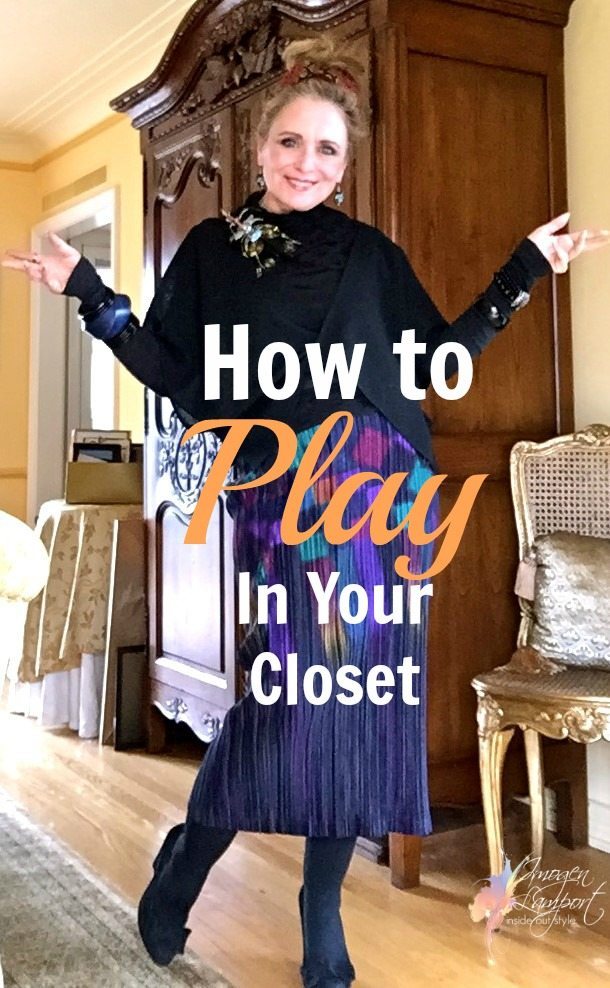 by Lisa White
Background and Research
As I approached retirement in the Fall of 2011, I realized that my wardrobe was going to change direction. I had collected many fine pieces over the decades of my life, but they could not meet all the needs of the lifestyle change I was heading towards. I began assessing the pieces in my closet and started culling out those pieces that would no longer be needed. I then started searching for the silhouettes and styles that appealed to me. I always believed the overall silhouette of an outfit was more memorable and critical to achieve before other components: body type, portrait area and rules. Rules of style are critical to know, but first the silhouette! I went through fashion history articles, magazines, and catalogues. After a few months, I collected many pictures of styles that truly resonated with me. I looked for patterns. I identified my "icons". My background is in both art and mathematics…an unusual combination that served me well in my profession and now was put to use in my new wardrobe transition project.
I found that certain silhouettes appealed to me and I was rather surprised by the results. Poiret, Erte, Frida Kalho (Boho Seventies) were selected over and over. The early part of the 20th Century was greatly influenced by an Orientalist style. The Japanese designers still carry that style forward as to many of their followers: Dries Martin Margiela,Van Noten, Ann Demeulemeester, Helmut Lang, and Hussein Chalayan.
I selected the pictures that showed the entire silhouette of outfits and began to study them. I would take tracing paper and trace the outline of these shapes using simple heavy lines. I broke them down into the simplest shapes possible: rectangles, squares, triangles, diamonds, and pentagons and then looked at the proportions of these shapes in relationship to one another. (i.e long narrow rectangle on bottom 2/3 and narrow diamond shape/square/trapezoid/pentagon on upper 1/3 or visa/versa) I would turn these shapes upside down and look to see how the shape would change…
WHAT IF? That question became the mantra of my creative quest for a unique style vision that reflected my personality. I did not start with rules…those would be adjusted later ( not strictly followed), but applied and then tinkered with until the overall aesthetic I was trying to attain was pleasing to me.
Analysis of a Style
Below are Erte paper dolls I purchased during the 1980's when I was considering a career in Fashion Design. I did not like the 80's styles, so I went back in history. This was before the internet! I put them in an envelope and only came across them a few years ago. They have been reactivated and have played a critical part in my style journey.
First, I identified the shapes and proportions I prefer: high waist/ long vertical drop skirt or pantaloon/harem pants, bell shape tops/narrow skirts, pleated tops similar to Fortuny in a diamond shape, wide sashes that sit high on the waist, ribbons, scarves, and tassels as belts…that sit high under my chest, set of four button tops/jacket, interesting collars/wraps with fluid movement, and hats and skirts.

How to achieve this style with modern pieces while avoiding a "costume" look:
High waist/long vertical top: find cropped tops and sweaters, create kimono type sleeves using scarves, start collecting kimono tops and long narrow skirts
Bell Shape Tops: find bell shape pieces…tunic, vests, dresses
Pleated Tops: no brainer….Issey Miyake….ebay, discount sites, consignment and sales….style pieces to the desired shape
Wide sashes that sit high: Scarves, obi belts, skirts and blouses with sash ties attached, search for interesting belts, locate a fabric store that sells roping and tassels for furniture..
Start collecting hats and use scarves to style turbans. Collect turban headbands.
These studies lead me to my favored "icons" and designers. I could identify a shape that suited me at a glance which made shopping more focused with fewer mistakes. I knew which pieces would be solid investments. I do like to push my boundaries, but those items will not be expensive pieces as their shape, color, vibe are on "trial" in my wardrobe…how will they get along with others. I did create a style recipe, but it was so embedded within my subconscious by the time I finished my style exercises…putting words to it was not easy. Yet, I could identify a piece in a moment's glance. If I had to use words to describe my style recipe it would include words such as Creative, Orientalist, Bohemian (warm weather brings out my Frida Kahlo), Dramatic, with a touch of Whimsical. I am an I shape and my color palette can only be described as Colors at Large.
The Process
Closet Play usually begins with an inspiration. Below is a picture of Beatrix Ost during one of her many visits to Japan. The outfit she is wearing is a winter one.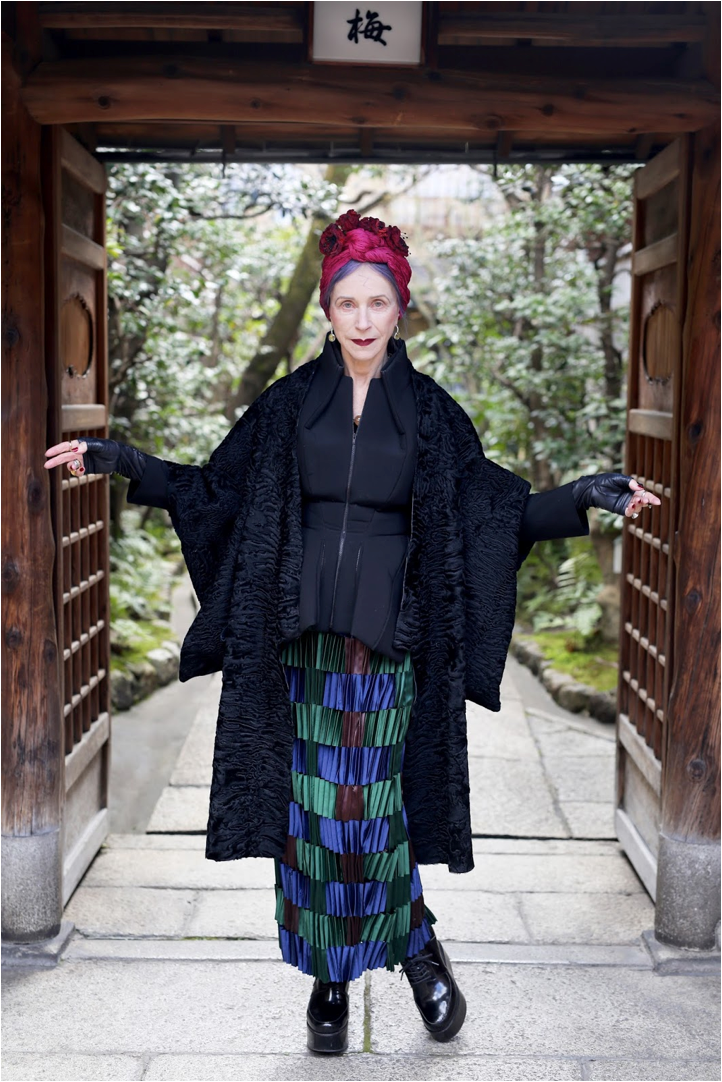 First, I outlined the shapes in the outfit.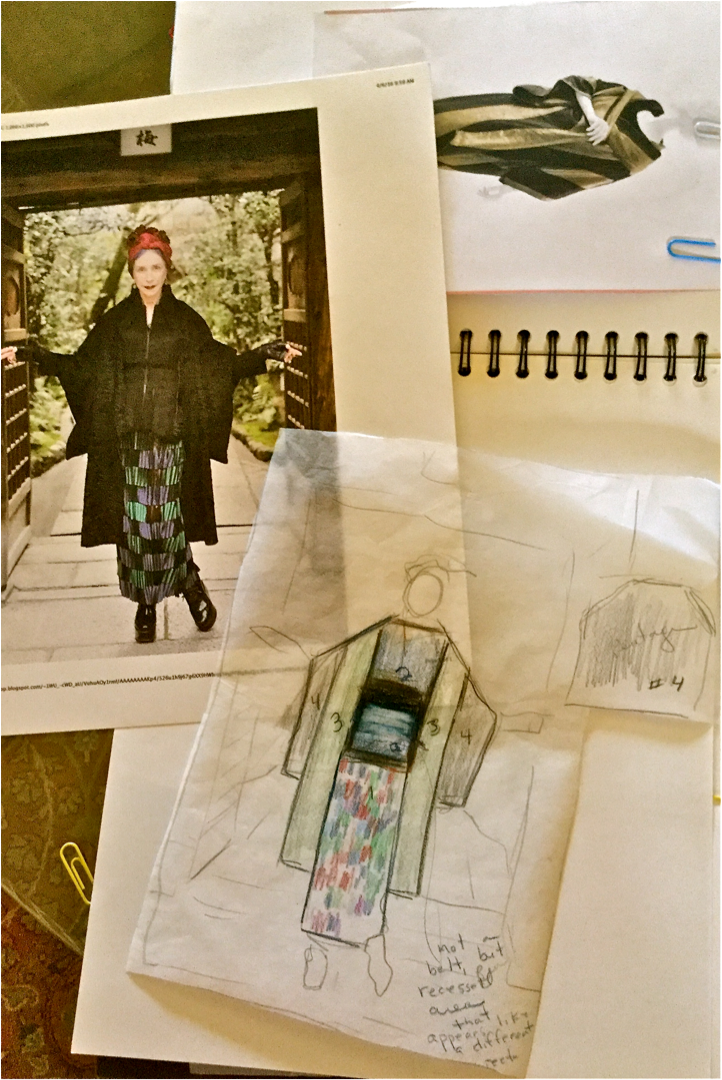 Once I have studied and identified those, I start searching my wardrobe like a personal shopper would when she is putting together an outfit for a client. I first identify the larger shapes: long rectangle and hexagon. The skirt I have chosen is an Issey Miyake Pleats Please with rectangular shapes…not identical, but similar to the skirt Beatrix is wearing in the photo. Since we are in between seasons in Chicago, I will try for a cooler weather and warmer weather look. It is very likely I will have more than one outfit when I am done.
The Plan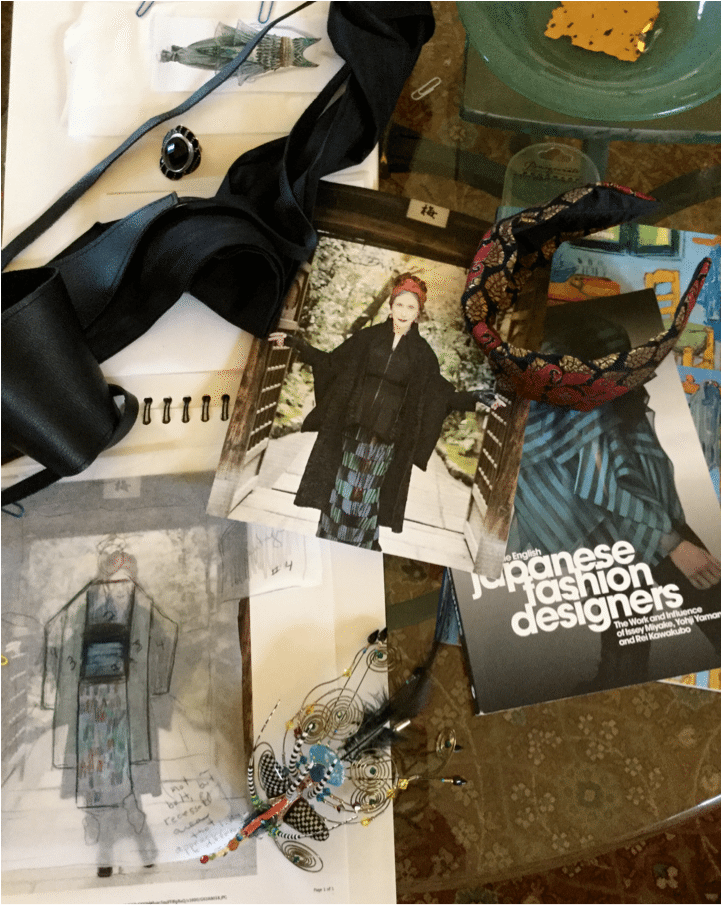 The Gathering
I have chosen a large Madame T Issey Miyake Pleats Please poncho. Issey Miyake pieces can easily be restyled into many different shapes and forms.
Other pieces I have collected: Akira kimono sleeve wrap tops, long sleeve layering tee that will give me a gloved effect similar to what Beatrix is wearing, Commes des Garcon vest, artist vest in an oriental gold/black fabric (cool weather wear), gold kimono like top, eskandar black blouse, scarves, turbans, kimono belts….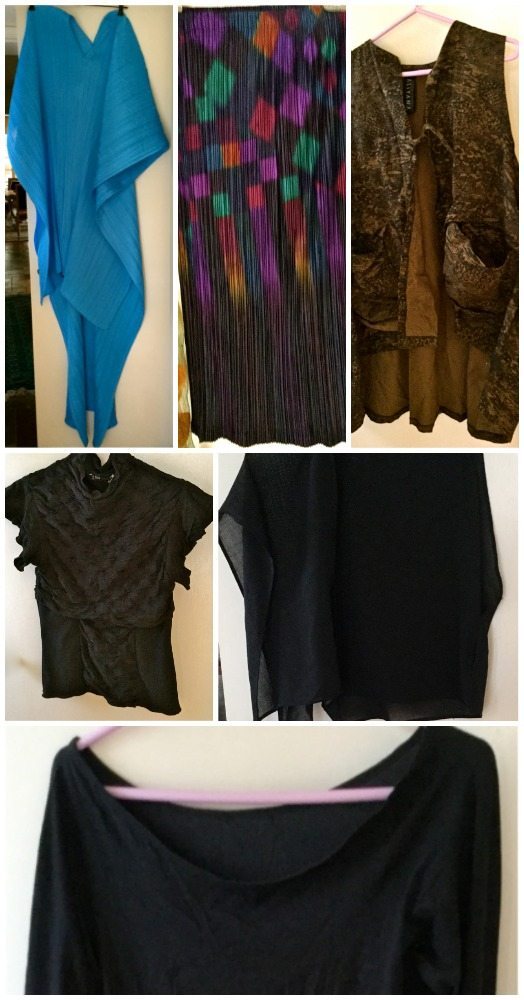 STYLING the Akira kimono sleeve top over black layering tee and black short sleeve top. Issey Miyake Pleats Please skirt. Whimsical insect statement pin, Bakelite bangles (black) Monies wood bangle (blue) Parrot earrings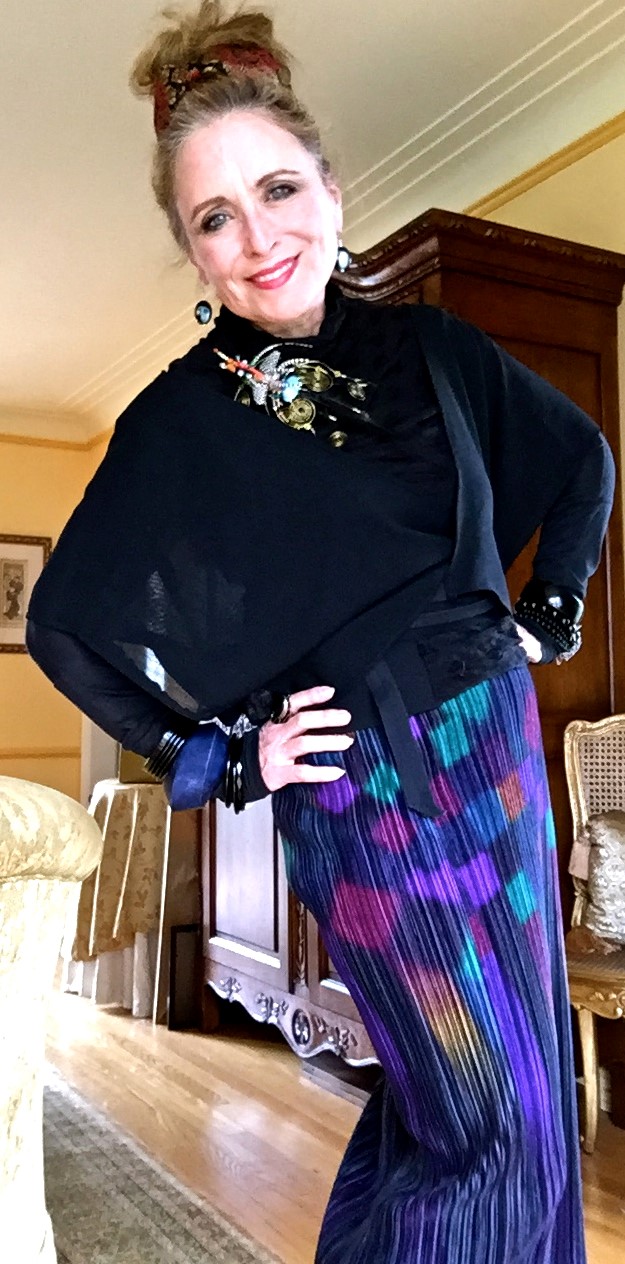 Issey Miyake Pleats Please Poncho worn over black tops and bottom half folded up and twisted. The ends are wrapped around to form a high obi. The sleeves form kimono.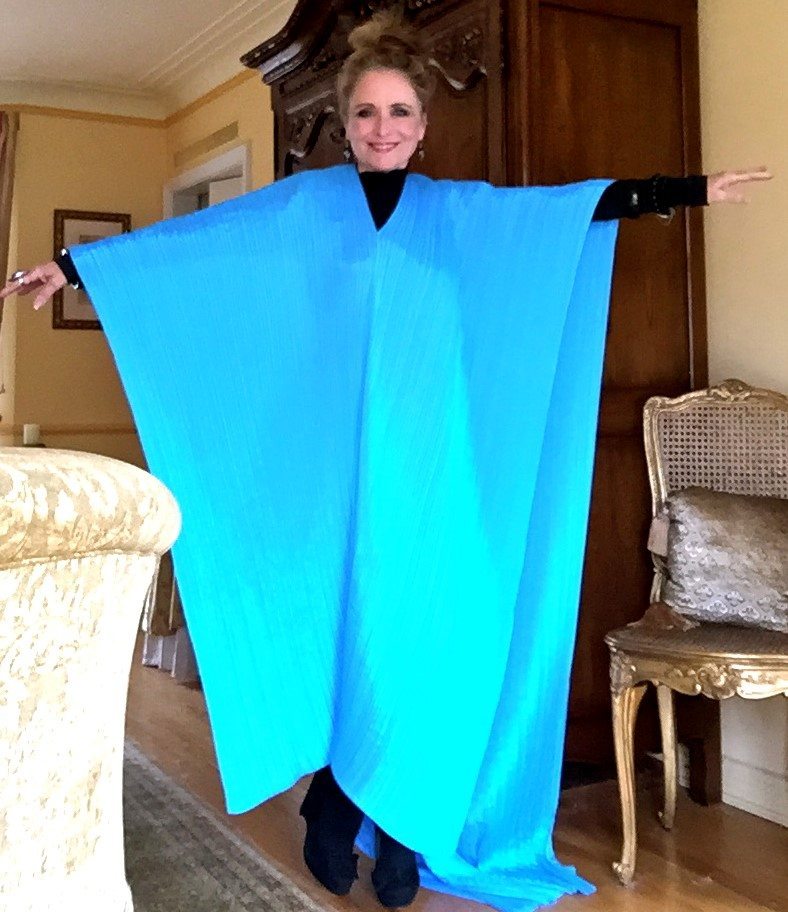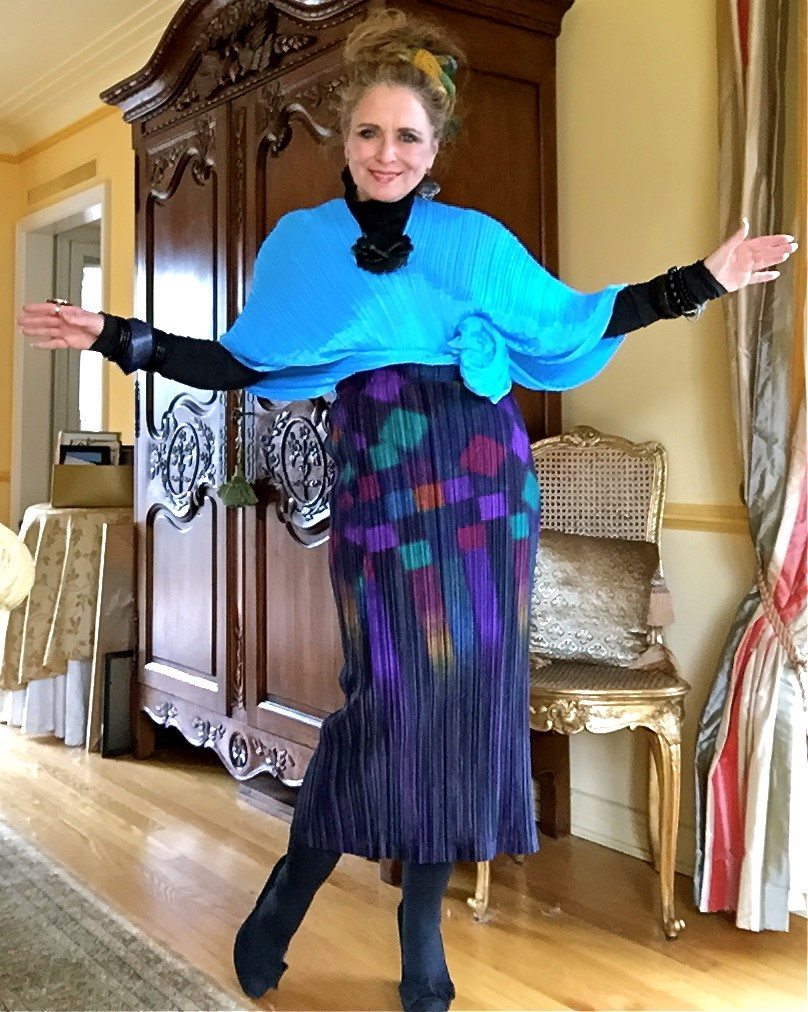 Issey Miyake Pleats Please Poncho as a long wrap with ends


Issey Miyake Pleats Please Poncho tri-folded lengthwise and worn as a wrap/scarf
Commes des Garcon vest worn instead of poncho and two obis tied high under the chest. Elk ginkgo black resin bead necklace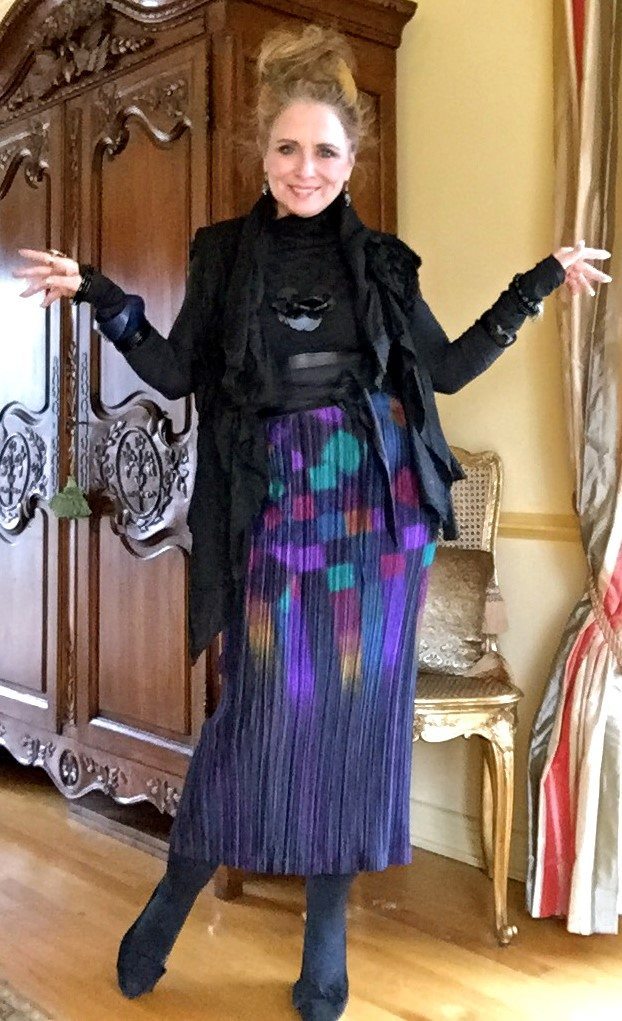 Gold and black Asian heavy linen vest with whimsical pin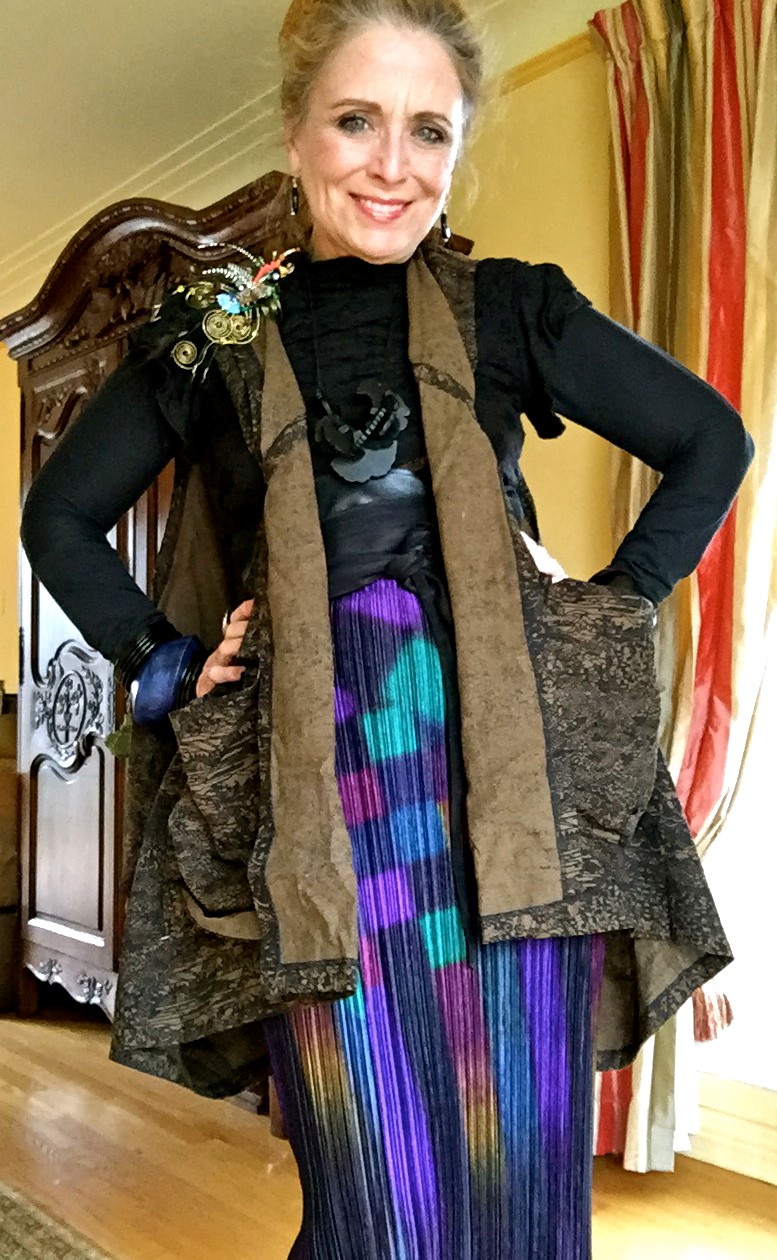 Gold top…cropped in front and longer in back. Elk ginkgo black resin beads
Thanks so much Lisa – so much food for thought and a new way of approaching developing your style.