Dear Imogen,
Your fashion blog has revolutionized the way I look at fashion and at myself. Thank you so much breaking things down in an open and positive way. I have a question that I'd like to post to the reader questions section, but was not sure how so I am sending it here. I was wondering if you had any thoughts about how to dress for PMS? I am an A body type and the bloating and cramps of the monthly cycle can sometimes make normally comfortable, leggings, fitted trousers and skirts feel unbearably tight. I was wondering how to wear loose clothes in a way that suits my shape and how to integrate the female cycle into the concept of a wardrobe? I know women who have a week's worth of outfits devoted to that time. It's quite personal, but I think other women could possibly relate to this, too. I'd be grateful for any suggestions.
Sincerely,
Bethany
PMS and other gastrointestinal issues can make some of your regular clothes feel uncomfortable, plus you may feel self conscious about bloating and your change in shape.
Here are My 8 Ideas for What to Wear When You Have PMS or Bloating
(or are newly pregnant and just don't want anyone to know yet)
Choose knit fabrics such as ponte (which has a 4 way stretch) which will move and expand with you.
Wear dresses as pants and skirts with stiffer waistbands will feel tight and binding, many dresses may have either a belt you can loosen or nothing grabbing around your tummy.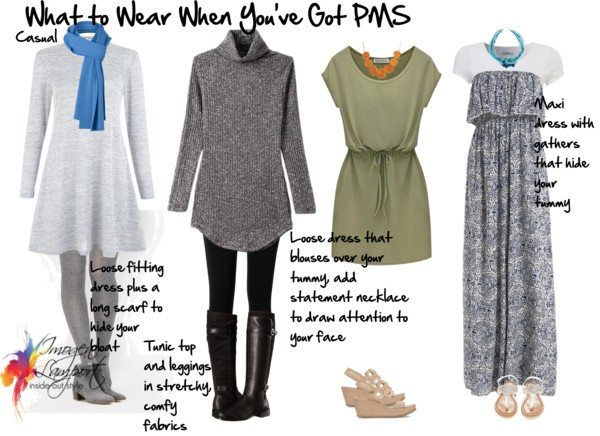 3. Maybe get some larger sized leggings that aren't so tight that you can wear that week of the month with tunic tops. Make sure they are really stretchy!
4. Look for clothes that have draping or gathering that falls over the tummy area to conceal your bloat.
For work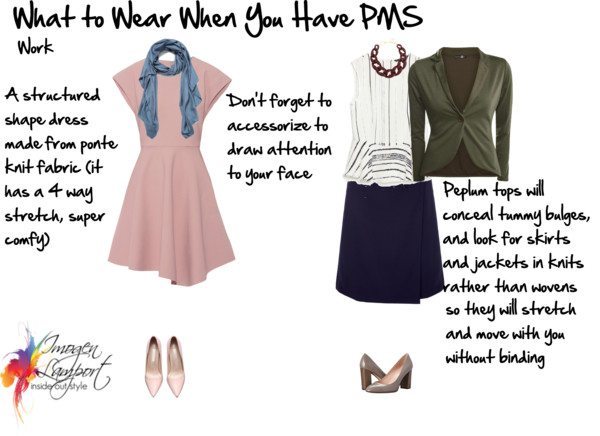 5. Look for clothes that are structured in appearance but made from stretch knit fabrics for comfort or have elastic waistbands that you can conceal with a top
6. Peplum tops may be a good option for X, A and 8 shapes
7. Don't forget to accessorize to draw attention up to your face and away from your tummy
8. Jackets and cardigans in colours are a great way to create long verticals through your torso and hide what's underneath. Wear a darker colour top and bottom (inner column of colour) and an alternate colour jacket to really make your bloat disappear
These tips will also work if you're newly pregnant and want to hide your bump!