My kids started back at school a couple of days ago, one started high school (how can that be? I'm not old enough to have a child in high school!) and the other in 4th grade. Now as a professional image consultant I have to be particularly wary about what I wear to school, as I know that the reality is, I'm being judged on what I wear, I mean, if I give out advice (and get paid to do so) on what to wear, then I have to be careful about presenting an image that people will think that I know what I'm talking about. Yes, my credibility is at stake every day! Who knows who wants some advice, or knows someone who is after my kind of services. I need to look consistently stylish every day just so I represent the brand of my business. Sloppy or slobby are never going to work in my world. Sure I have many roles that I play, mum, business owner, stylist, wife, etc. And I do exercise and work and sometimes even have a playdate of my own, so what I wear has to be appropriate for the occasion too.
So what should you wear on the school run? Many would just say "clothes" and be done with that.
Contentious issue? It can be. There are some schools (ones I've been told about, not ones my kids attend) where there is definitely a school gate 'dress code'. If your school has such a dress code it's something to consider as there is probably a whole lot of judging going on. Now if your kids are at a school where anything goes, you may not want to read further, but if you understand your image is a communication tool, read on.
When you consider that everything you wear is communicating something about you, your values, your lifestyle, your age, your income and a whole load of other stuff (I'm not making this up, there is a lot of research that backs this statement up), then particularly if you're new to a school or want to project a different image from the one you've previously been projecting it may be a topic you want to consider.
So what to wear? Well it really depends on your roles in life and how you want to be perceived.
Do you want to make friends with other parents? Then you want to come across as warm and friendly so make sure you have some Yin elements in your outfit.
Do you want to be a force on the PTA? Then consider that you may need to add a little more Yang to your outfit.
If so, consider how you're being perceived via what you're communicating non-verbally. If you've got into the habit of throwing on whatever is on the floordrobe (yep that's the technical word) in the morning rush and then leaving it on because it's too much of a hassle to change, you may want to rethink this daily habit as all it says is "lazy, sloppy and I don't care".
These days you have to park (if you're driving your kids) some way from the gate (unless you're super lucky and the carpark gods are smiling on you), so a comfortable pair of shoes doesn't hurt to wear. Or you may, as I try and do, is walk to school as it helps to get my daily 10 000 steps (and away from my computer for just a few minutes).
I will always remember the comment of one other mum as we were chatting waiting for our kids at school and she said that I always looked so stylish. Yet there I was in a pair of jeans and a t-shirt, the only difference being, that I had accessorized and neither the jeans nor t-shirt were of the sloppy variety.
Here are some ideas for Stay at Home Mums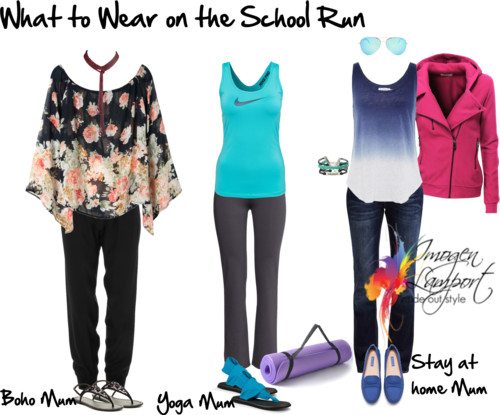 And a few for the Working Mums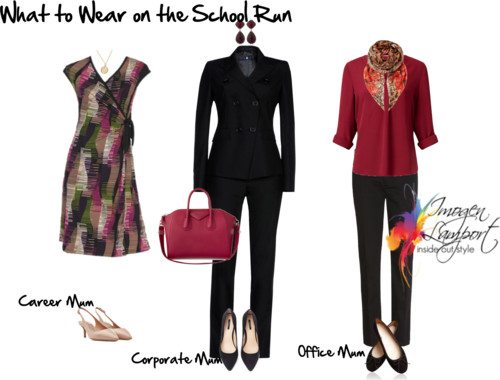 Tell me what do you wear on the school run? Is there a 'dress code' for mum's at your kids school? Do you conform or just go your own way?