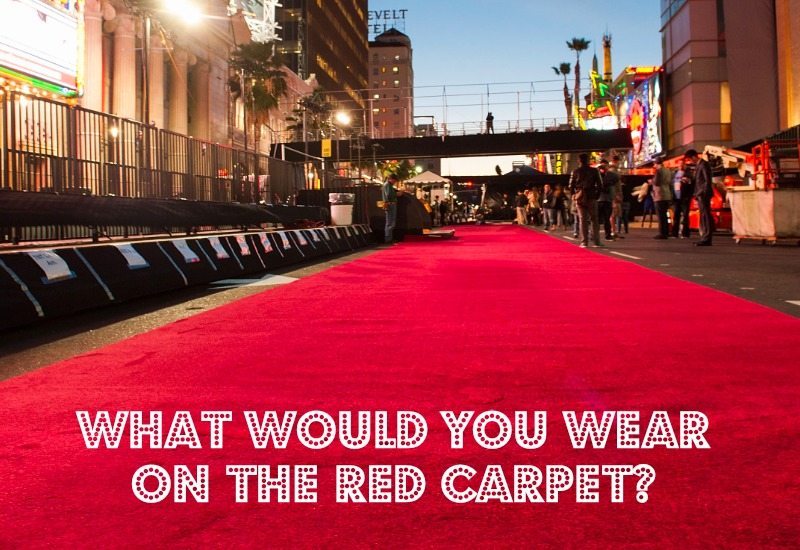 OK, so I'm unlikely to ever be asked to the Oscars, or any such award ceremonies, but when I'm choosing a client's signature colours, one of the criteria I may run past the colour is "would I dress this person head to toe in this colour and it would look truly WOW" as in, if you were looking for a frock to wear to the Oscars, it would need to be a signature colour that knocks you over on how fabulous it makes you look.
So from my mere mortal position in front of my computer, I wanted to show you some of the red carpet looks on some stars and give you my opinion on the colours and what did and didn't work at the Oscars.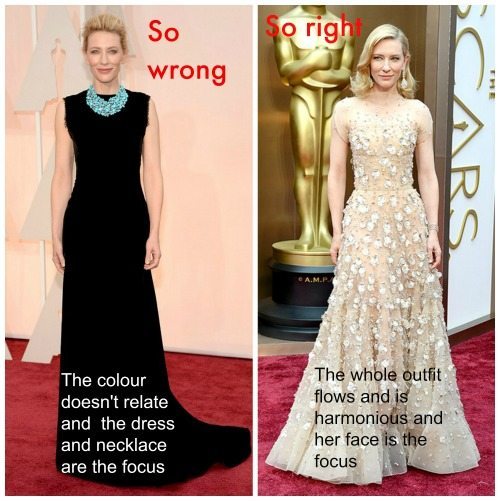 Here with Cate Blanchett this year and last year. When you look at her in the black frock, you just see a very heavy dense black that doesn't relate to her colouring, which is soft, light and warm. Her head almost disappears as the black frock and the necklace (which is trying to soften the black) take centre stage. Last year's frock(which is soft, light and warm) makes Cate the star and you find your eye flows seamlessly over the frock and back up to her face, not focussing on her body. It's so harmonious!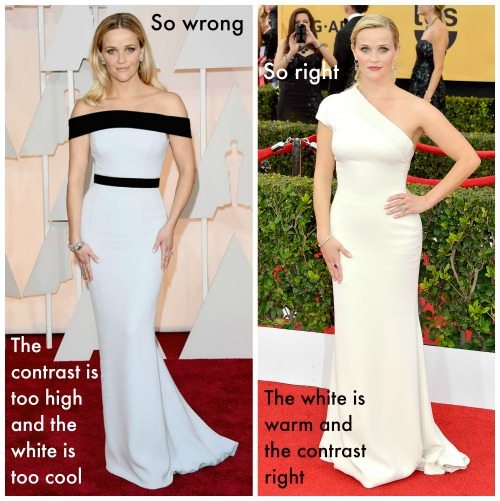 Now Reese Witherspoon has worn a bit of white on the red carpet, but this can also be as wrong as it can be right. In the black and white, the contrast is too high for her low/medium value contrast and the white of the frock is just too cool for her warm complexion. Not only that, she's wearing a nude lipstick which is too soft, this dress called for a red lipstick. Contrast that to the warmer white of her SAG awards dress you can see how again, the eye moves seamlessly and the feeling is of harmony.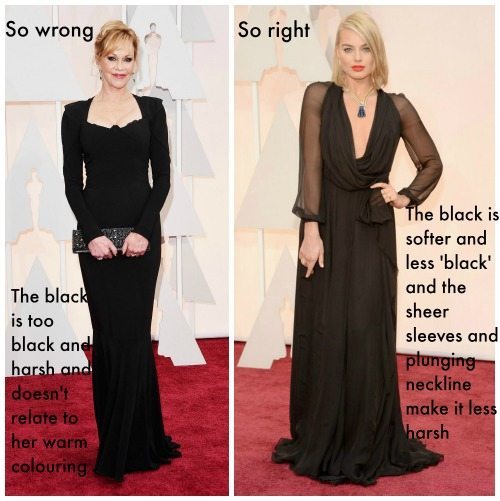 The reality is that black suits a small percentage of the population (that is, those with cool, dark and bright colouring), but it's such a 'classic' colour that so many want to wear it. So how do you do it if it's not a great colour on you? Not like Melanie Griffiths! That black dress is a very dense black. The long sleeves means she's covered up completely so it's a lot of black for her light warm colouring to handle. Contrast that to Margot Robbie's black dress, which when you see it next to Melanie Griffiths black, you see is not as black a black, the fabric is also softer and the sleeves are sheer which warms up the black further making it less dense and heavy. The plunging necklace stops the black from reflecting on her face and casting shadows, and the red lipstick is bold enough to create a face focus.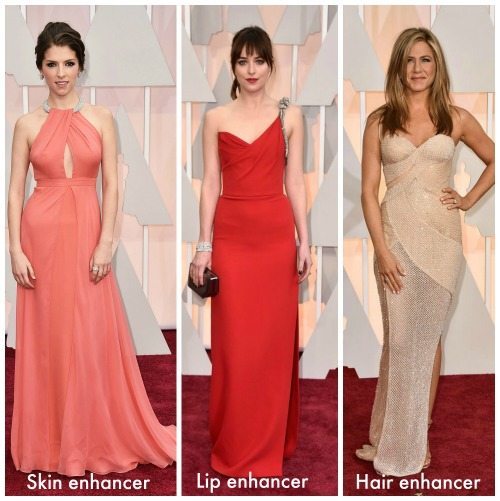 To finish off, here are some colours that work. Think skin enhancers (they are like your natural blush colour). Lip enhancers (the red of your lips) and hair enhancers – here Jennifer Aniston is wearing a hair highlight colour that also works beautifully with her warm skin.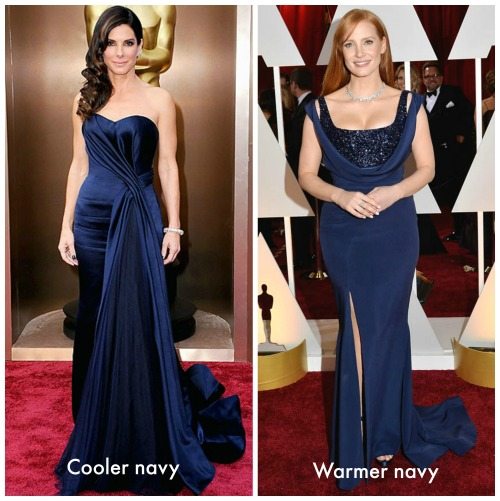 And last but not least, one of my favourite dark neutrals that should replace black in so many instances. Navy – you can get it in cooler versions and warmer versions to suit all complexions. It plays beautifully off brown hair and eyes and also is a complementary colour to orange (so great for those strawberry blondes) as well as being a fabulous eye enhancer for blue eyes. It has the slimming appearance that we all assume black is the owner of, without the harshness. What more could you ask for?