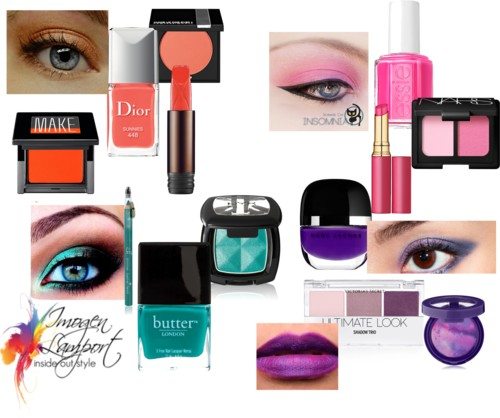 I've just been reading the latest issue of In Style magazine which has got me all het up. In the makeup feature, they list the latest fashion colours:
Orange
Fuchsia
Violet
Emerald
And then proceed to tell you that everyone can wear them.
Sadly, this is not true. For a naturally enhanced look, your makeup should tone with your skin, not be the feature (which is all very well on the catwalk or in a magazine where they are selling the makeup and want it to be noticeable and the feature). My clients tell me that they just want to look like themselves, only better, not like they're wearing lots of obvious makeup. They want their eyes to be what is noticeable, not the eyeshadow colour dominating.
Let's look at these colours and figure out who actually suits them best before you invest in the latest fashion colours.
Orange: Warm people only! Whether orange, peach or coral, these shades are warm and look best on those who have a warm complexion. When looking for a blush colour, you want it to look like you have blushed naturally. If the blush looks obvious, it's probably the wrong colour (or too dark or bright a shade for you). Start with lighter shades and then try deeper, rather than the other way around for a more subtle and natural look. Orange can also be a great eyeshadow colour for the warm blue eyed people, as orange is opposite blue on the colour wheel it intensifies the colour of your eyes.
If you have cool colouring and want to wear orange – wear it as a nailpolish on your toes, but avoid it near your face.
Fuchsia: Cool peeps this one is for you. The brighter shades suit those with deeper and clear colouring. The lighter pinks are best for the rest.of us. Hot pink can be worn on your lips if you have clear, bright colouring or a dramatic personality. Pink eyeshadow will make blue eyes look bluer. It's also fabulous as a nail polish in summer.
Emerald: This tone comes in both warm and cool versions. Cooler versions are bluer, warmer versions have a more yellow-green appearance. It's pretty bright for a makeup colour, will work well if you have brown eyes as an eyeshadow, it can be fun for a blue eyed person to wear as eyeshadow. Otherwise stick to it as nail polish or possibly an eyeliner for those fun evenings out.
Violet: I have found that violet works well for warm people, particularly green eyed warm people (or Hazel eyes) look fabulous with a violet eyeshadow, it really makes their green eyes look greener. On cool people they tend to look bruised in violet shades (except for as a nailpolish). It's too reminiscent of the blue shades in the undertone of their skin.
What is your favourite makeup colour?