Reader question -I find skirts swivel around so I avoid them but maybe you have a tip or two.
In this video, I share 3 ways on how to stop your skirts from twisting.
Skirt swiveling can happen for several reasons…
Does the skirt sit on your natural waist or on your hips. If a skirt sits on your hips, then the movement of your hips as you walk constantly moves the fabric up, down, and sideways. This movement is more likely move the skirt and twist it around. The waist, on the other hand, stays level, so a waistband that rests at your natural waist has a more stable base.
The shape of your skirt also affects it's tendency to twist. A pencil or straight cut skirt is more likely to twist with the movement of your legs. The fabric will move up to a smaller part of your body where there is less tension on the fabric.
Wovens (non-stretch) fabric skirts are also more likely to move than ones with stretch as when you move the woven skirt fabric will not stretch over the movement but will instead pull and twist the garment around your body.
Other times the twisting could be caused by a handbag that sits at your hips.
So how can you stop a skirt from swiveling?
1. Tailor it to your curves!
Make sure the skirt has enough ease at the hips to allow you to move freely. It should also be firm enough at your natural waist to stop it from sliding down. If have a longer skirt, you modify it and take it in a bit more at the waist and make it into a higher waisted skirt. A high waisted skirt is less likely to swivel. Luckily for you, current trend for higher waisted garments so there should be plenty of options both online and in stores.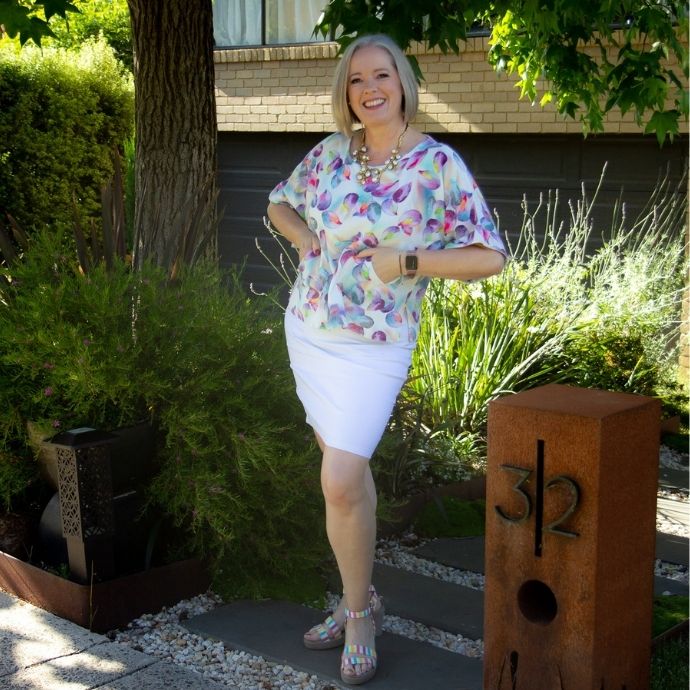 2. Add a Belt
You could try belting your skirt at the hip or waist to prevent it from twisting or adding clear rubber strips found inside some of your strapless garments and swimwear to the inside of the skirt waistband.
3. Accessorise
If your skirt is being twisted by a handbag resting on your hips, try a backpack or a smaller shoulder bag.
And if you're really not sure of your shape – take my body shape quiz here and get your body shape bible to discover the right style for you. If you'd like my professional opinion on your shape this is something you get as part of my 7 Steps to Style program.
Further reading on skirts:
6 Things to Look for When Choosing Dresses and Skirts for Relaxed and Casual Environments