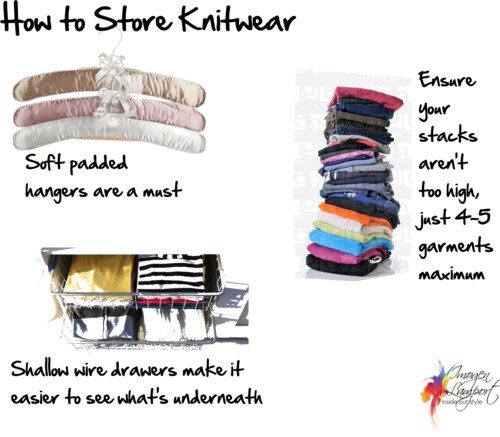 What is the best way to store knits/sweaters so that they hold their shape? But also so that they are easy to access and coordinate for outfits? I've put most of my clothes on hangers coordinated by color, which helps a lot, but I don't think I'm supposed to hang sweaters. Do you have any recommendations?
I have to admit I do hang some of my knitwear – but I'm always careful about it. Here are the best options:
1. Fold them and stack them on shelves in piles that are not too high, easy to see and so you can find them.
2. Hang them on padded hangers (the kind your granny used to make, foam covered). This works for most knits unless they're very delicate or heavy (the weight will pull out the shoulders and create bulges). I find that I can hang many of my cardigans except for a few bulky ones. Pull the garment up at the shoulders so that the hanger doesn't pull the shoulders but the end of the hanger goes into the sleeves.
3. Folded and stored in shallow drawers. You don't want more than 3 stacked in a drawer as you won't see or remember what is at the bottom of the pile. Drawers are my least favourite option unless they are wire drawers which you can see through.
However you choose to store them, keep them in style and colour relationships. I have quite a few long sleeve merino knits which I fold and are stored on a shelf together.
Don't forget to keep lavender bags and cedar balls in with your knits to keep moths away.