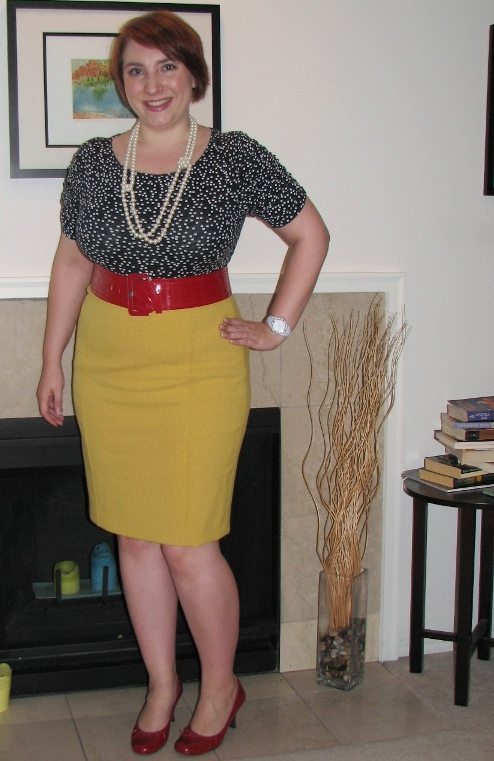 Seattle based ex-blogger Kari (from In Kari's Wardrobe) is today's Stylish Thoughts contributor.  What I love about Kari is her obvious joy in taking the time to get dressed and working with her personal style.
How would you describe your personal style?
Colorful, modern classic, ladylike with sass.
I like wearing figure-conscious silhouettes that flatter my hourglass shape. At the same time, it's also important to me that my style convey warmth, intelligence, and humor. While I occasionally flirt with a bombshell style persona and love my curves, I'm also aware that they can play against me, and I don't want my appearance to undermine the aspects I most value about my personality.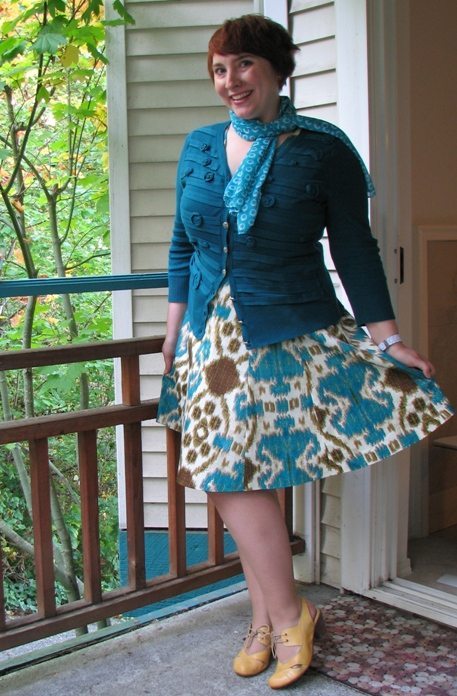 What's your secret to making yourself stand out?
Being unafraid to look a bit different than my environmental norm. I remember the first week at a new job, where most of my colleagues were wearing jeans and sweaters, and I was wearing pencil skirts and jackets. Several coworkers came up and gently whispered to me, "They told you that you don't have to dress up, right?" Over time I've grown more comfortable being the "dressy" one, wearing skirts and heels when others are wearing pants and ballet flats, and mixing colors and patterns in contrast to the solid neutral shades around me. Most of my friends and family seem to accept my dressiness as a quirky part of who I am, and if I stick out, I think most of the time it's for a good reason.
Who are your style icons?
While I feel like it's almost a cliche to say this when you're a busty, hourglassy redhead, Joan (Christina Hendricks' character) on Mad Men is the most relatable style role model for someone with my shape and retro/classic style preferences. Watching that show totally cemented my love of pencil skirts, sheath dresses, and jewel tones!
That being said, I've also been lucky to find many personal style role models online through sites like YouLookFab, Inside Out Style, and AlreadyPretty. I learn very well from visual examples and illustrations of fashion trends, but only when they are at my level – I haven't yet learned how to look at a fashion show and translate a runway look to something that actually works for my life, for my body.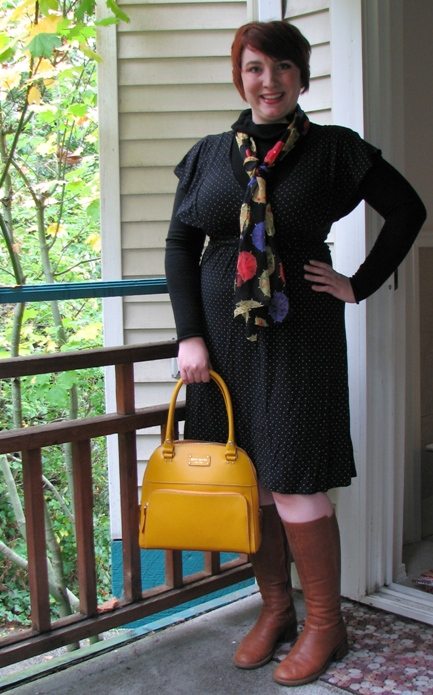 What's the secret to looking polished?
To be honest, I'm not sure! Though my preference is to look polished, and I usually start out that way, throughout the day I become decidedly rumpled. I'm incredibly clumsy! So while I try not to be outright careless, the fact that my klutziness is hard on my clothing promps me to choose pieces that are pretty, but can take some wear and tear. I also try to keep items on hand that can help me mitigate the small disasters – safety pins, band-aids, transluscent powder, eyeglass cleaning cloths, nail clippers, dry shampoo spray, and enzyme fabric cleaner.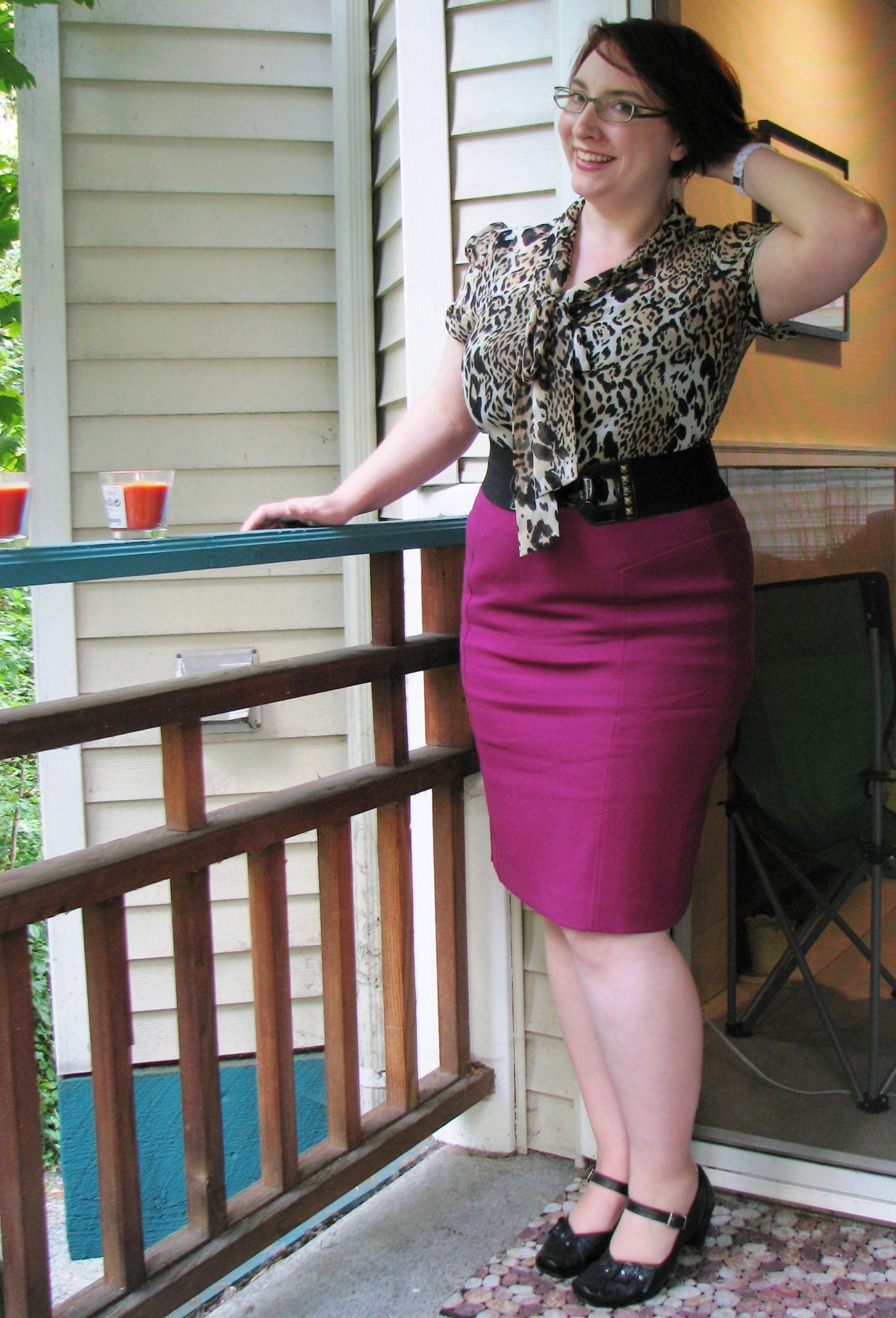 How do you balance new trends with a more timeless look?
This is actually a concept I've struggled with a great deal. My natural inclination is toward full-on classic looks (as the plethora of pencil skirts taking over my closet can attest to), and adopting new trends does not come as naturally to me. It was difficult for me to add a modern element to my style for a while. But I've learned that my eye can adjust over time with practice and creativity, and I don't always know whether I'm going to love a trend or not until I actually try it. I also learned through trial and error that timeless basics can pair very well with trendy items, giving a fresh look to a classic staple piece and allowing me to dabble in a new look that still feels true to my style.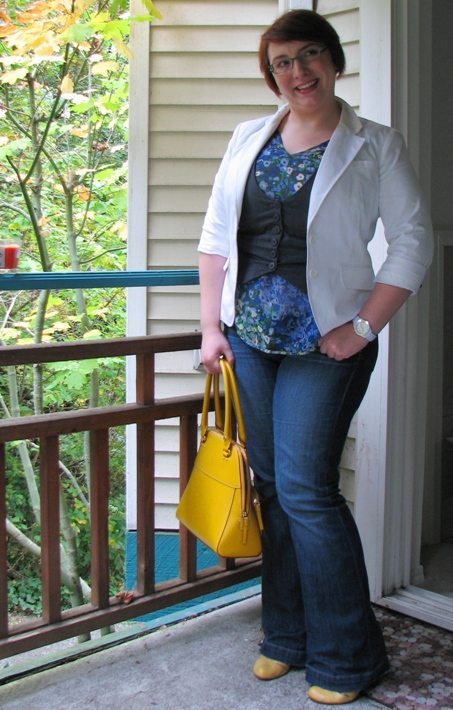 What is your favourite current trend?
To my utter surprise, I find myself enamored with the resurgence and modern interpretation of 1970s fashion – a total shock given how greatly I resisted the trend at first. I am really digging the way bootcut jeans and tucked in blouses or turtlenecks with a wide belt have revamped my casual wardrobe. As a woman with a large-framed, long-in-the-rise, short-in-the-waist figure, this isn't a look that I ever thought would be right on me – but with the right pieces and accessories, I've learned that I can make it work in a way that feels true to my style.
What's the worst current trend?
I'll admit that I am totally unexcited about the return of 1990s fashion (shapeless dresses with ditsy florals, super-distressed grungy jeans, plaid flannel shirts, crop-tops or low-rise pants.)
What is the one thing you would spend a lot of money on?
Glasses. I love wearing specs, and want to make sure that I'm selecting well-made frames and lenses that are flattering and work well with my style. It's definitely paid off, because in the years since I started selecting glasses that I really loved, I went from a full-time contacts wearer to deliberately choosing to wear glasses most of the time. Recently, an optical store assistant told me that he thought of glasses as "face jewelry with a prescription", and I loved the description!
I also have to add an excellent bra to the list – I think it's important for any woman to wear a properly fitting and supportive bra, but especially so for someone with a large bustline. I've learned that it can pay off to buy a high-quality bra – not only does my figure look much better, but the more expensive bras I've purchased have also lasted for a VERY long time!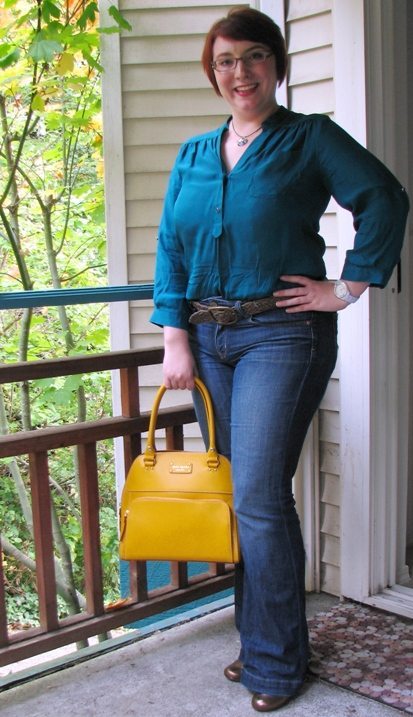 What's not worth the money?
Items that may seen like a good deal but only end up adding clutter to a wardrobe. My downfall has always been impulse buys that are on sale – items that seem almost right but not ideal. After a while I learned that this practice only led to a closet that was full of problematic clothes – uncomfortable, poorly fitting, or simply not meshing at all with my style and existing wardrobe. I've learned from experience to be more discerning when I'm thinking about a purchase. Now, I do more pre-shopping or research online before I commit to a buy, give myself time to think about how much I really want or need a new purchase, and am willing to return an item that really isn't working. Life is too short to have a closet cluttered with unusable clothing just because they were inexpensive!