Ok, how many of you think you'd be interested in style and fashion if you were blind? I certainly hadn't thought about it, but then I stumbled across Michelle of Eyeronic, a blind journalist who enjoys fashion and I love her writing and her unique perspective on style so I asked her to write a Stylish Thoughts post to share with you. Michelle lives in Toronto and is an inspiration and has some really fantastic ideas that can help everyone improve their style.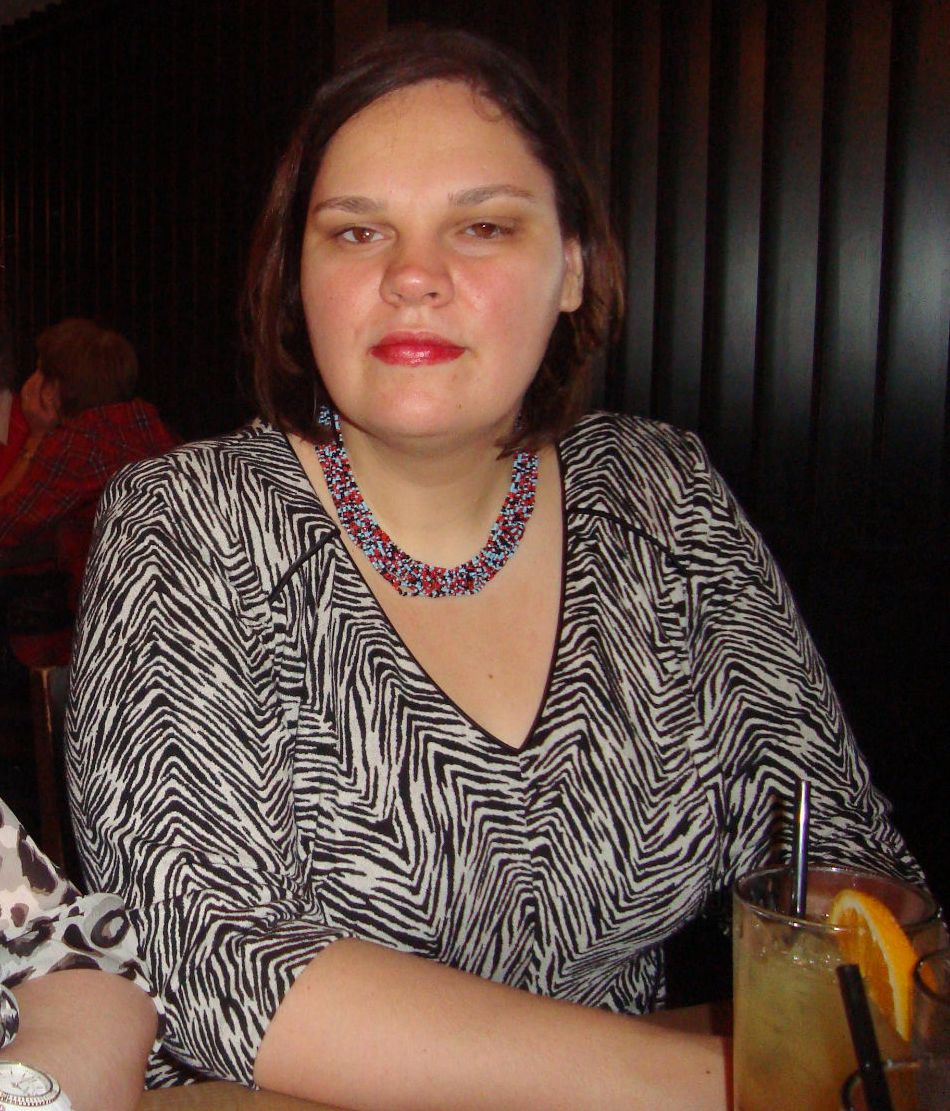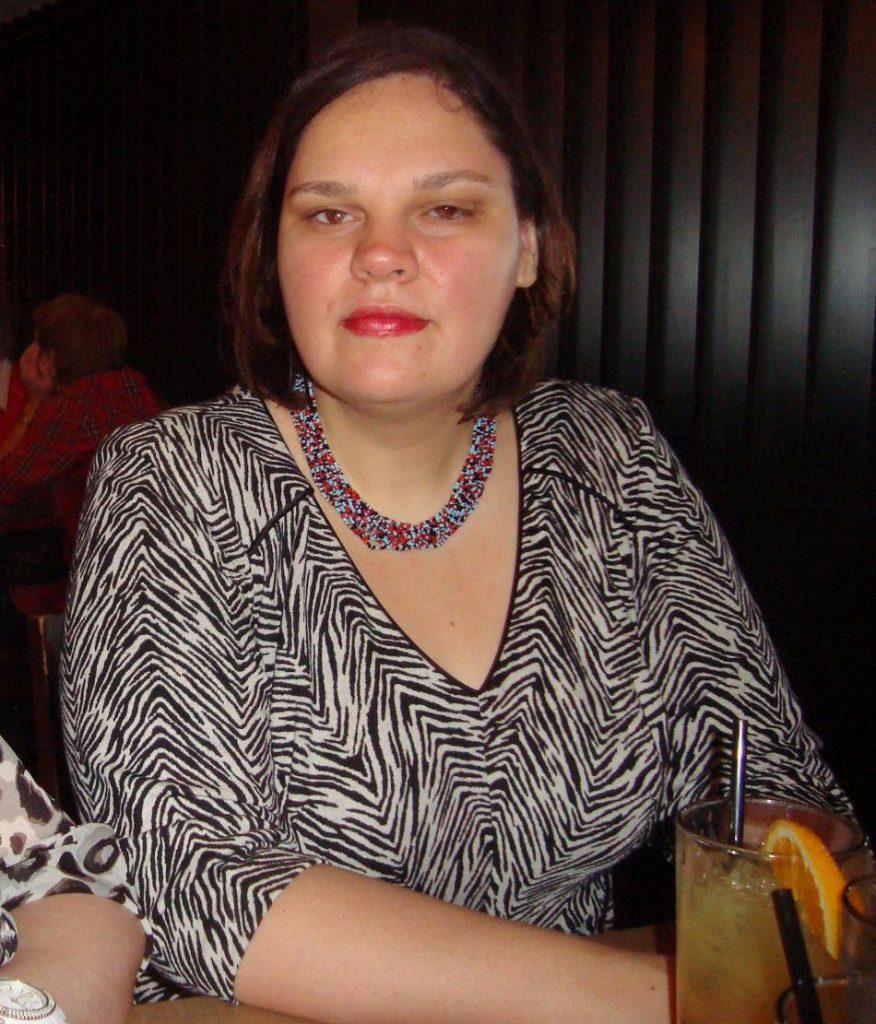 Fashion may not seem a likely hobby for a blind person, but it's been a source of fascination for me since I was old enough to realize I couldn't look in a mirror. I've been captivated by colour theory, fascinated by fabric and smitten with style questions for as long as I can remember. I would pepper my mother with queries about why certain colours did or didn't go together and pumped my friends for details on what looks were current in stores and flattering on various body types. My desire to be treated as normal, rather than disabled, led me to put my accumulated knowledge into practice and assert my place among sighted peers by dressing like them to the best of my ability. With age came greater confidence, which along with the internet has deepened and emboldened my style in recent years. Even so, it came as a total surprise and incredible compliment when Imogen approached me to do a guest post for her fabulous blog. So without further ado:
How would you describe your personal style?
I'm very much a modern-classic dresser. I favour smart casual to dressy outfits and try to look polished at all times. I favour clean lines in my clothing which I can trace easily with my hands and turn into a useful mental picture. Sighted friends and family have helped me learn my best colour options over time, and I now know that bright shades work well with my pale skin and dark hair. These classic elements work well with my personality, but also jibe perfectly with my blindness. I need to be able to evaluate all elements of my look through tactile means, and it's much easier to tell if your jeans are smoothing over things properly or if your hair is lying in the right place if you're not trying to pull off an overly complicated look.
What is the secret to great style?
Great style is not possible without great fit. After all, if you don't feel confident in your clothes, all the sartorial savvy in the world won't help you put your best foot forward. Most people understandably rely on a mirror to ascertain the fit of their clothes, but I don't have that option. It's amazing how much I can perceive just by going right back to basics and paying attention to how something feels. Try it. Put on a jacket that makes you look your best, then touch it. Savour the fabric that drapes perfectly over your body. Trace your fingers along the seams that fall in just the right place. Note the width of your lapels, the shape and positioning of the buttons, the workmanship of the lining, the contour of the neckline, the flow of the material as it enfolds your body. Soak it up…then go put on a jacket that you know doesn't fit so well. You'll feel the difference almost immediately. Seams are askew, shoulders feel tight, sleeves pull awkwardly or bag out in ways that make you want to turn it into a vest. Any of those issues most people chalk up to discomfort may be a sign of poor fit. The same goes for pretty much any garment. Try it again with a tunic worn over slim-legged pants, then again with trouser jeans or flares. In ensemble 2, You can feel the excess volume flapping around two parts of your body and competing with each other. Your hands are also great indicators as to whether accessories are competing with necklines, belts should be worn higher or lower on your waist, blouses are gaping unattractively over your bust, etc. Touch can play a role in pretty much all elements of style except colour.
What are your top tips for looking stylish when travelling?
Keep it practical, wrinkle-proof, comfortable and layered. Ballet flats or booties are my best friends on flights, since they can be removed easily when going through security. Travel without jeans is just not going to happen unless I need to run somewhere special straight from the airport, in which case a substantial knit dress is the order of the day. Keep the outfit simple and accessorize with a scarf that can do double duty as a wrap when cabin temperatures tumble. And if you can find a more practical travel purse than a structured cross-body bag, I'd love to hear about it!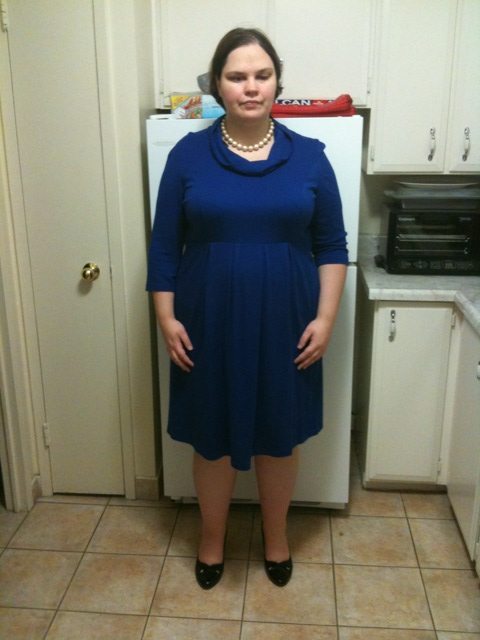 What's the secret to looking polished?
Polish is a key part of my style, and I try to achieve that simply by paying attention to detail. Some people can pull off the deliberately relaxed look, but if a blind person were to be careless about coordinating outfit pieces, slovenly with her hair or careless with makeup, it would look more like an accident than a considered choice. Right or wrong, many blind folks are assumed to quite literally dress in the dark with little thought for what they're putting on. I try to flout this not so grand tradition when I can. I'm not into excessive matching à la twin sets or perfectly coordinated bags and footwear, but I'm mindful of maintaining aesthetic harmony (neutral metallic or snakeskin footwear goes a long way to keeping things current but clash-free). I have an easier time picturing clean lines and add interest through bolder colours, making sure not to let any one piece do too much of the talking. I pay attention to my grooming, keep my brows sculpted and maintain a simple bob haircut that I can style by touch. I wear very little makeup. This keeps my skin healthy and lessens the chance that I'll go out looking like a raccoon. I always wear at least one accessory on my body, be it a necklace, scarf, earrings or bracelet. I'm mindful of pant lengths when wearing boot cuts. This all sounds like entirely too much effort, but it becomes second nature if you make it a lifestyle.


How do you balance new trends with a more timeless look?
I get my trend updates through a few carefully chosen fashion blogs, which all allow me plenty of time to find out the goods on a given trend before it *finally* trickles down onto Canadian store shelves. I always try to have one or two of-the-moment accessories on hand, like the two animal print scarves and long pendant necklace I acquired this year. I'm more into updating silhouettes than dancing to Pantone's seasonal colour beat, and am happy to introduce new skirt/pant styles or give blouse/sweater cuts a go any time. They still have to feel like me and flatter my body type, though. You'll never find me abandoning lower necklines, defined waists or jewel-tones just because they're out of favour on the runways. I've learned over the years that those elements all look best on my body, and on my body they will stay.
Who inspires you?
Angie Cox over at www.youlookfab.com blows me away on a daily basis. She's a fashionista of the first order, yet she never loses sight of the fact that style must be practical and enhance your life rather than encompass it. She wears walkable heel heights, functional jackets and day dresses that give new meaning to comfort. And once she's donned her fabulous duds, she spends her day helping people gain confidence in themselves and expand their horizons. She's been an instrumental part in my own style evolution, which has in turn led to social and professional opportunities that simply weren't possible before. An extra-curvy blind woman may not have seemed a promising protégé to some, but Angie has no time for facile judgments and is all about bringing out the sartorial and personal best in everyone. I can't express how much I admire her.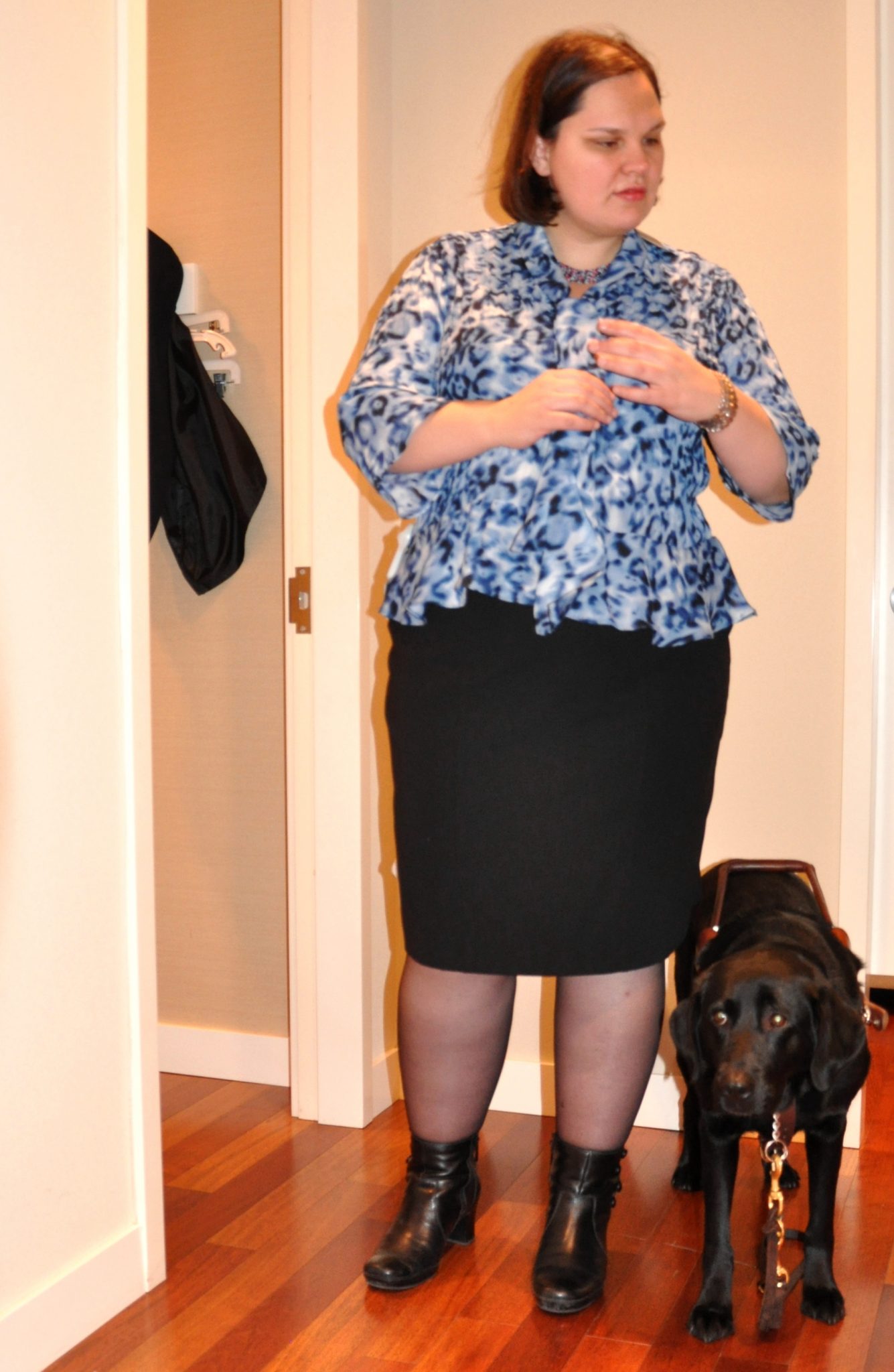 The one piece of advice most women need but don't get?
Wear the best-fitting bra you can find. It will be expensive. It will be a different size than you think you need. It will require the assistance of a professional fitter at a specialized boutique, at least the first time. It will need regular handwashing…and it will be worth it. Your proportions will be radically redefined and your back spared much agony if you bite the bullet and get fitted. Do it stat!
What's the best piece of style wisdom you've ever received?
My mother once told me, "dress for the body you have, not for the one you want." Brilliant words of wisdom that can serve us all well. Interestingly, the equally reliable professional wardrobe cliché is the precise opposite…"dress for the job you want, not the one you have." I put that into practice every day too.
What's your favourite short cut to style?
A waist-defining dress in a bright, saturated colour, hose with some texture, heels, a neck accessory, and a great handbag. It takes five minutes to put on and I feel confident, comfortable and pulled-together all day.