Today I'm introducing Singapore based blogger Sylvia from 40 Plus Style.
What is the secret to great style?
Showing confidence and creativity with your clothes. And knowing how to give the message you want to give with your clothes.
What is the one thing you would spend a lot of money on?
A well fitted suit in natural fabrics.
What is the one thing you wouldn't spend a lot of money on?
Anything too trendy.
What are your top tips for looking stylish when travelling?
Think out your outfits before going and make a travel capsule. Make sure that you can wear a lot of the clothes with one another in different combinations and bring clothes and shoes for various occasions. I usually stick to one or 2 color schemes to minimize the amount of clothes and shoes I have to take. Always pack less than you think you will need, because if you're like me, you always end up buying things on trips anyway.
What's the secret to looking polished?
My outfit is always key. It needs to fit well, be elegant but fun and not too much happening. Shoes can really give an outfit that extra spark. I often mix it with some understated jewelry. Hair is not my strongest point and I wished I could style it better.
How do you balance new trends with a more timeless look?
I try to stick to a kind of trousers that suit me well. If you then combine then with a trendy whimsical top it will still look very current. Accessories are another great way to add trends. I love adding belts and my current favorite is hats.
What is your current obsession?
Hats! I hardly have any, but I really want to have some more. I think they can transform your clothes and make the look a lot hipper or chicer. There are so many hats to choose from as well. One for every mood!
What's your secret to making yourself stand out?
I like clothes that are just a little bit different. They usually have a fun design element and often there is an element of asymmetry.
The one piece of advice most women need but don't get?
Dress for you body type and only wear clothes that suit you. And have a bit of fun with clothes!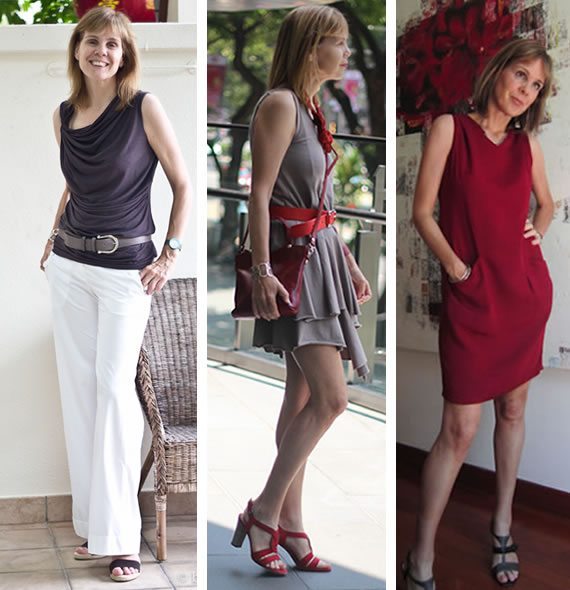 What's the best piece of style wisdom you've ever received?
Style is all about effortless confidence in being yourself.
What is your favourite current trend?
I love the 40s silhouette, the jewel tones and the black and white men's wear look. I have described them here: http://40plusstyle.com/my-favorite-trends-this-season-and-how-to-wear-them/.
What's the worst current trend?
I'm not really into anything with glitter and really don't get the oversized arms and shoulders that don't fit (as seen by Stella McCartney ), on the runways.
What are your favourite websites
I read many sites on a daily basis, so it's hard to just pick a few. But when it comes to style I really like:
– Youlookfab.com: great community there and I love Angie's style
– TheStylecrone.com: I love Judith's writing and her outfits that always incorporate a hat
– http://www.thecitizenrosebud.com/: Although Bella's style is quite different to mine, I love her creativity with clothes and her fun writing style. Can't believe she is over 40.
– advancedstyle.blogspot.com: I simply adore looking at these gorgeous older ladies looking absolutely fabulous
– http://www.thesartorialist.com/: is there a better street style photographer?
How would you describe your personal style?
I'm actually reading a book that will help me define my style exactly and get my personal style statement. I'm documenting all that for my style series on the site. At the moment I would describe it as fun chic.
Who are your style icons?
Cate Blanchett for her wonderful creativity and love of fashion
Jackie O and Audrey Hepburn for their simple chic style
Bjork for being gloriously over the top and being uniquely herself