Some of you already know Liverpool UK blogger Jane from The Small Fabric of My Life as she journeyed through a year of working her wardrobe without going shopping. Here she shares her stylish thoughts.

What is the secret to great style?
This has been a lifelong quest and my blog was part of that. I used to think it was all about knowing dressing rules and your body shape and dressing accordingly. However, now I think it is a little about knowing those rules but much more about inner confidence and intuition.
What is the one thing you would spend a lot of money on?
I covet a Mulberry bag.
What is the one thing you wouldn't spend a lot of money on?
Tops and t-shirts – anything that needs washing a lot.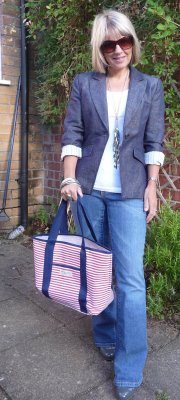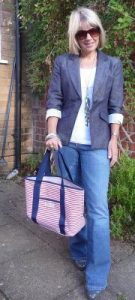 What are your top tips for looking stylish when travelling?
Flat or mid-height shoes, sunglasses, great hair and layers while avoiding jeans and anything that crumples. And avoid beige. Look at pics of Jennifer Anniston leaving and arriving at airports – she has it sussed.
What's the secret to looking polished?
Don't have four kids! I am still working on that. However, newly-washed hair, manicures and pedicures (in summer) are essential.

How do you balance new trends with a more timeless look?
I pick trends that work best with my body. I have good shoulders, arms and waist. However, I have short chunky legs and my ample chest can be a blessing or a curse. The check-list is:
What is your current obsession?
I am looking for a pair of high, edgy court shoes that will be comfortable to wear all day. I have tried on hundreds of pairs but am still looking.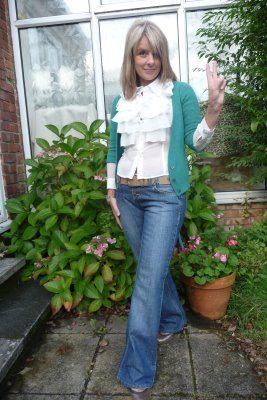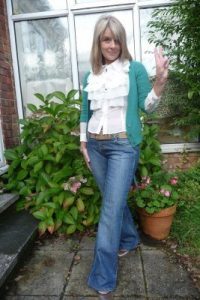 Who inspires you?
Jennifer Anniston. I love her sense of smart casual style with a smattering of red carpet thrown in. I love her hair and body shape. She is a similar age to me and I kid myself that I would have had her life had I not married for love and had four kids. But of course I wouldn't swap everything I have for the hair, the body, the clothes……. Well, maybe for just one day!
What's your secret to making yourself stand out?
As I am only 5ft 1in it is quite difficult. But I have learned that when I am feeling good and confident in myself I attract the attention of other people most.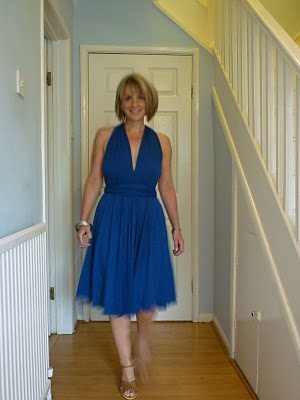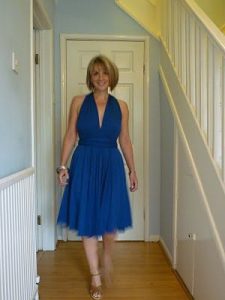 The one piece of advice most women need but don't get?
It is not what you wear but how you wear it – your inner confidence is the key.
What are your favourite websites
I started style blogging in 2008 after stumbling across Wardrobe Oxygen (http://www.wardrobeoxygen.com/ ) and realised ordinary women could look stunning. At the same time I was trying to save money and find my style after investing the energy of my 20s and 30s to babies and toddlers and work. I set up www.workthatwardrobe.blogspot.com as a pledge to experiment and not spend any money on clothes for a year. I had great fun "dressing up"; making some hideous choices and accidentally finding what worked for me. After that I started my current blog, The Small Fabric of My Life to continue my style quest, document my dailywear and add in a little of my career as a freelance writer and teacher.
It is difficult to pick out my favourite blogs but most are listed on my blogroll. However, if I had to single out the five that are most influential to me they would be:
1. Inside Out style – Imogen's comprehensive encyclopaedia of style. https://insideoutstyleblog.com/
2. My Everyday Wear – Lorena won my first Capsule Wardrobe Competition in 2009 and I have been impressed with her style ever since.
http://myeverydaywear.blogspot.com/
3. What I Wore Today – Kasmira is the queen of thrift and style.
http://whatiwore2day.blogspot.com/
4. Chic on The Cheap – LyddieGal always looks fabulous and I love the way she is not afraid to try things out. Great photographer too.
http://chic-onthe-cheap.blogspot.com/
5. Sheila – for her quirky confident sense of style. http://sheilaephemera.blogspot.com/

Who are your style icons?
Jennifer Aniston for all of the above and Lulu and Kylie Danni Minogue because they are a similar height (and all 40+) and always look stunning.