Courageous. Confident. Vital. A brave new color, for a brave new world. Let the bold spirit of Honeysuckle infuse you, lift you and carry you through the year. It's a color for every day – with nothing "everyday" about it.
While the 2010 color of the year, PANTONE 15-5519 Turquoise, served as an escape for many, Honeysuckle emboldens us to face everyday troubles with verve and vigor. A dynamic reddish pink, Honeysuckle is encouraging and uplifting. It elevates our psyche beyond escape, instilling the confidence, courage and spirit to meet the exhaustive challenges that have become part of everyday life.
"In times of stress, we need something to lift our spirits. Honeysuckle is a captivating, stimulating color that gets the adrenaline going – perfect to ward off the blues," explains Leatrice Eiseman, executive director of the Pantone Color Institute®. "Honeysuckle derives its positive qualities from a powerful bond to its mother color red, the most physical, viscerally alive hue in the spectrum."
Eiseman continues, "The intensity of this festive reddish pink allures and engages. In fact, this color, not the sweet fragrance of the flower blossoms for which it was named, is what attracts hummingbirds to nectar. Honeysuckle may also bring a wave of nostalgia for its associated delicious scent reminiscent of the carefree days of spring and summer."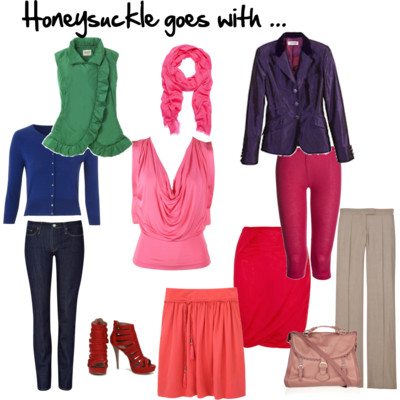 So what to wear it with? If this is your kind of pink (and there will be lots of versions in the shops, there always are, try teaming it with analogous colours like a soft orange, cool red, darker pinks and burgundies, alternatively go for a purple or cobalt blue or wear the complementary green.
Neutrals such as navy, stone, taupe, grey, rose beige and rose brown will all look stunning with it.
Is this a colour you think you'll wear? How will you add it to your wardrobe this year?