Hi Imogen,
I love your website but am using it to gain confidence with choosing clothes that suit my shape.
I need your help and ideas for an outfit. I am a forty eight year old, X shape, bra 12F and I am going to a Powder finger concert with my children aged 19 and 17 in a few weeks time. I am not at all sure what to wear, I don't want to look like someone my age trying to dress like their age, but I want them to think "Mum still has it". Jeans may be ok but what to wear with them?
I would truly value any tips that you are able to send my way.
Kind regards,
Sally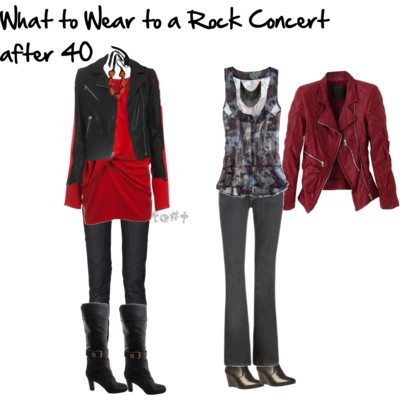 So what does a 48 year old wear to a rock concert these days?
Given that you'll be one of 100 000 (most likely), no need to overdress, but you definitely don't want to dress frumpy and embarrass your kids, nor do you want to dress too young and look too 'try hard'.
I'd suggest a great pair of jeans (definitely no mom-jeans), in a dark wash in a bootcut or straight leg style, then teamed with a funky top and some fun accessories.
No tacky old t-shirts, but something modern, team it with a soft leather biker style jacket for that bit of 'rock chick' glam.
Chunky jewellery is the way to go, this is not the outing for your delicate diamonds.
Make sure your shoes are stylish whilst still being comfortable to stand in for hours (and even dance, you will be tempted to get up and boogie).