Sarah Greenberg: "I have a 'blazer on the door' theory, meaning that you just never know when you're going to be pulled into a meeting with a CEO or a filmmaker. Even if I'm wearing jeans, I have a blazer on the back door in my office and a pair of heels under my desk, and I'm always going to be dressed appropriately." Co-President of Theatrical Marketing for Lionsgate Films.
Have you ever considered the power of the collar? Many women feel that they don't have the power or authority at work that they'd like, and because their workplace is 'business casual' then the wearing of suits is out of place.Did you know that we give people in collars more respect than those without? This is why the polo shirt has become such a staple in men's business casual wardrobes, as even though it is a relaxed and casual garment, it still has a collar. But as a woman, polo shirts are not usually a great garment, so how can you up the power of your business casual wardrobe by adding in a collar, without looking over-dressed?
If you want to reduce your personal power in the workplace, show lots of skin, shoulders, arms, décolletage, stomach, legs, feet. Why?& Skin is exciting! The more skin you show, the more exciting you become, but you also become distracting. I've either had or overhead conversations with co-workers over the years about women (and men) in their office who are showing lots of skin, and that's all they can talk about or think about, rather than the job at hand. If you're going out on the prowl, you're more likely to show a bit of skin, but as the workplace is not your prowling ground (or shouldn't be), then skin is not appropriate.
In a recent Shop til You Drop
magazine, there was an article/fashion spread on wearing shorts to work, saying that shorts are fine in the workplace. Well, probably in a mostly female dominated fashion magazine latest fashion is mandatory environment, shorts may be fine in the workplace, but certainly in the IT business and publishing companies, and retail environments I've worked in, shorts are definitely not OK in the workplace, not for the women or men to wear. Too much skin, too exciting, focus not on work.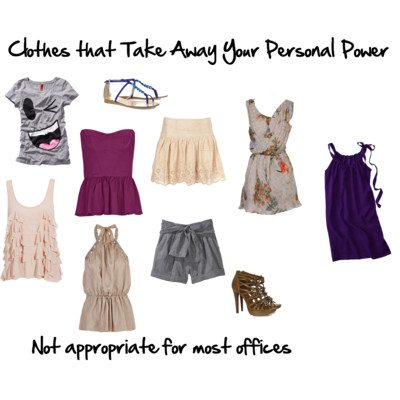 Graphic t-shirts, bare shoulders, lots of legs, almost bare feet, any garment that is tied with a bow (makes you look like you want to be unwrapped like a gift). These are not going to increase your power and authority in the workplace. Fun as they might be, does the word 'business' spring to mind when you look at them? If it does, I'm guessing that you don't work in any of the offices I've ever worked in!
So how do you increase your power?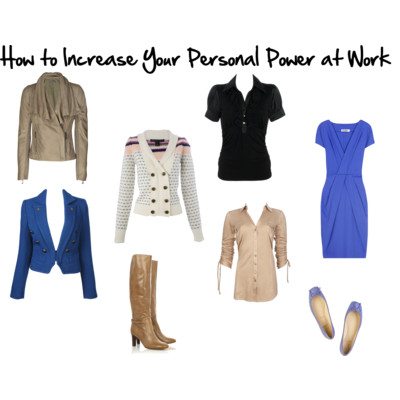 Toss a jacket over the top of your t-shirt, it doesn't have to be a classic formal jacket, but that collar and extra structure will increase your authority.
Even a cardigan that is constructed more like a jacket and has a collar will work.
Don't show off your shoulders, look for tops and dresses with some sleeve.
Add a collar to your shirts to up their power.
Cover your toes, heels or feet (why do you think foot fetishes exist if feet aren't sexy?).
You don't suddenly have to wear a 'power suit', but even these small adjustments to your wardrobe will tell the world that you are serious about business and your work, and they just may help you get a pay rise or promotion (believe me, I've worked with clients who were not promoted because they were showing too much skin for the office, it matters).
Further Reading:
How to Express the Right Message Whilst Flattering Your Body Shape