I was asked by a reader how to choose match necklaces with clothing, so to start, here is a quick guide on how to match necklines and necklaces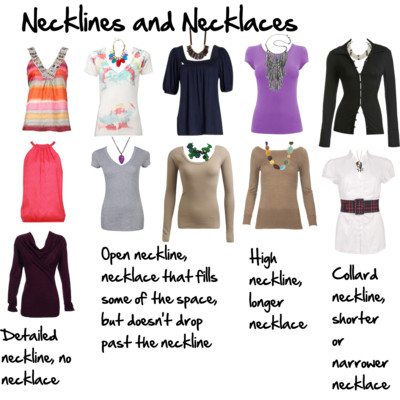 Necklines that have detail – beading, ruffles, cowls etc, don't need any extra embellishment, avoid wearing a necklace with them.
Lower necklines such as Vs, Scoops, Square, Sweetheart need something to fill in the space, but preferably on the skin rather than hanging over onto the top.
High necklines like crews and boat necklines look great with longer necklaces.
Collared necklines work well with narrower and higher necklaces, if you have a longer neck, try a choker, otherwise something that fits in the space and sits just below your collar bones.
Use the colours of your top as an inspiration for choosing a necklace. Look at the styling – modern and minimal, don't wear fussy old fashioned jewellery.