Rosina wrote me this question:
My style question is one of confidence.. I think I alluded to it once before. I really think I have a style: Jeans, boots, long tops, my own jewellery designs, huge purses, arm warmers or opera gloves, and lots of texture. However, I never, ever, EVER feel confident. If someone looks at me, I think it's because I look like a wreck, or I have a smut on my nose or something. Once, I was sitting in a shoe shop and I saw a lady from behind in the mirror opposite, and thought, "Wow! I wished I looked like that…" and then I realized it was me.
I tell you that story to illustrate how hugely UNconfident I am in my appearance. I told my husband, who was there with me, and he just shook his head in bewilderment. When I have a business appointment, which is blissfully rare, I feel really fearful. Being tall (almost 6′ in heels), I walk really tall and strut my stuff, so I look as if I am the world's most confident person but inside I'm dying in case they are thinking how ridiculous I look. What's with that? Part of me says it's insane but the other part caters to it.
Do you think that confidence in one's outer appearance is a learned thing?
Wow – I have to tell you this made me feel so sad, and I wish I had some sort of magic wand that instantly gives confidence (and I'd use it on myself as well!).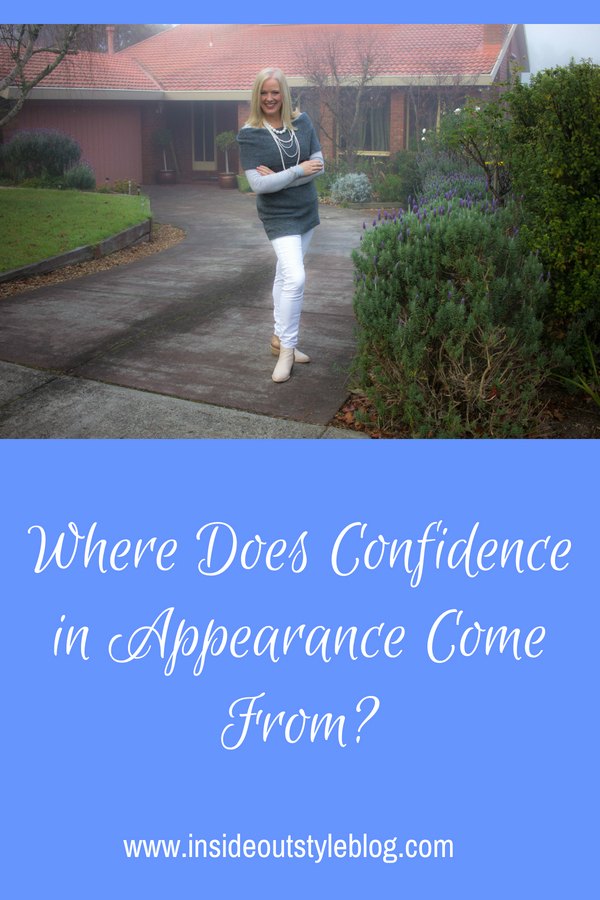 Looking Inwards or Outwards?
One thing I have learned over the years is that most people are more inward than outward focussed, so they're spending more time worrying about what they're wearing rather than thinking at all about what you are wearing. You notice and remember what you wear (others may not be as aware).
Rosina's comment also made me wonder about growing up and if anything incidents in her formative years might have brought about this lack of confidence – she writes:
My parents both said I was lovely. I never believed them and used to cry when I was at elementary school because I wasn't at all pretty and everyone let me know that. I dreaded school. Also, I had to wear these strange clothes that my mum knitted…skirts with braces and similar horrors. However, after this, my schools had a uniform. I don't remember feeling bad about the way I looked then.
So the hand-knitted/home-made clothes didn't help Rosina feel confident at school, whilst the school uniform was fine – what I'm picking up here (and I could be quite wrong) is that when in a 'uniform' Rosina feels fine and confident, it's only when she's in her own choice (though back then she had no choice as a child) she lacks confidence.
So where does confidence come from? What I've noticed with my clients is that it comes with knowledge – the more they understand about who they are and what suits them, the more confident they feel. This has also been true for me on my journey of style.

How to Feel More Confident in Your Appearance
1. Discover who you are as a person – what are your unique set of personality traits? How can this be expressed by clothing and accessories?
The reason I was so keen on spending 3 years of my life researching and developing 16 Style Types (with Jill Chivers and Jane Kise) was that I knew at my core that personality is the key to feeling confident in your style. There is a direct correlation between personality and how you approach style – such as whether or not a capsule wardrobe is for you, or if you want to look like others around your or feel more comfortable looking more different (plus lots more which you can discover in your Style Type Report).
2. Which of these traits do you want the world to pick up on when the meet/see you? How would you like to be perceived by others?
The first step in my 7 Steps to Style program is all about how to express your personality through your clothes – it gives you the language and tools to help you share with the world who you are – which clothes, details, accessories, patterns and prints, colours and fabrics – are the right ones for you. It's the other half of the
personality
story.
3. What is your lifestyle? What do you spend your time doing? What clothing is most appropriate for the activities that you undertake?
Another step in my 7 Steps to Style program is helping you understand your lifestyle and what you actually need in your wardrobe (so frequently we don't have "the right" clothes for activities and occasions that crop up in our lives). Creating a useful and relevant wardrobe that is future focused (so many women have wardrobes from the past that are not helping them today or tomorrow) is something to strive for.
4. Style formula: add 1+2+3 = 4 How do you relate that inner you (personality), with how you want to be perceived and what fits with your lifestyle? When each element comes together, that is when confidence grows.
The more you know the more easily you will discover and develop your true authentic style. The feedback I get from women who have discovered their style is that they feel empowered and confident in a way they've never felt before. They tell me that it has a positive flow-on effect
into
their whole lives that is more than just skin deep.
I don't want people saying I'm classically elegant, but rather that I have a different streak that makes what I wear interesting as well as tasteful. I'm not really explaining myself well, am I? Lol. A good example is today. I had a pretty burgundy and black small check long blouse on with a ruffle and a bow at the back. Both my husband and daughter, and my neighbour complimented this blouse and the whole look with indigo jeans, black heels and purse. I,on the other hand thought I looked like mutton dressed as lamb because of the bow and frills. So I voiced that and everyone shook their heads and basically asked me if I was nuts.

Here we can start to see a little of Step 2 coming in – Rosina's clothes, even though they may have looked great to her family and friends, they weren't a true reflection of the inner Rosina (Step 1), so she lacks confidence in her appearance.
What makes you feel most confident in your appearance?
Were there any experiences in your formative years that either gave you more confidence or sapped it?