How does your lifestyle influence your clothing choices?
The first step to discovering this is to do the following exercises to further break down your lifestyle.
What do you do with yourself?
How do you fill your time?
Where do you go?
Who do you see?
Take some time to answer these questions to help you on your style journey.
Before you answer these questions – spend some time working out
who you ar
e if you haven't already. You may have discovered that there is a
Work You
and a
Personal Life You
. These are often distinctly different and require quite different styles of clothing. You may have even more personality styles, and this is fine and it's great to recognise each part of your unique and complex life and personality.
You may also have discovered with this split personality of yours that you may want to add small details of one personality into another – for example, if you have a very Professional/Classic work personality, but also have a Creative and Feminine side, you may want to look for details to add into your Professional side to express all of you – you can do this with jewellery, or other accessories, or details on clothing.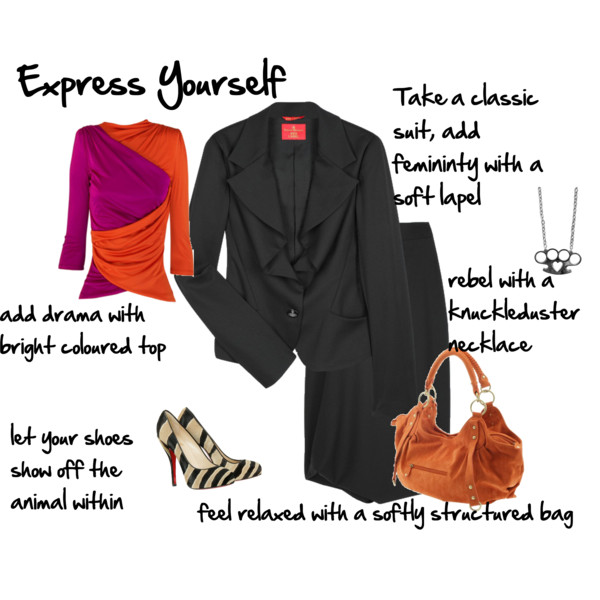 The above example is a bit over the top, but maybe one of these elements, or a more subtle version of a few will help create your personal style. Inside my
7 Steps to Style program
is a really comprehensive section on how to interpret clothing and work with the different personality dressing styles to express your unique personality. This step is so important in understanding who you are, how you want to express your style and what to wear (without it, you'll never feel stylish and like the best version of you.)
Today is for figuring out your lifestyle and so what kinds of clothes are appropriate for what you do.
Understanding Your Lifestyle Activities
Take a piece of paper and write down everything you do in an average week (or if you'd prefer, go and print out the lifestyle analysis form and fill it in).
Then look at each of the categories at the bottom and figure out given what you spend your time doing, what percentage of your life is spent in each of the clothing categories.
Look in your wardrobe – are the percentages related or have you way too much of one category (such as casual) but nowhere near enough Smart Casual?
Why is this important? There is no point in buying lots of party dresses if you don't have anywhere to wear it, or it doesn't fit with your lifestyle (eg. you live in a dusty country town and are the mother of small children and only go to a wedding or party once every few years).
Look at the pictures of clothing you've collected for the previous exercises in your style discovery – do they fit with your lifestyle? If not, why not? How could you dress your choices up or down to make them fit with your lifestyle but still be true to who you are?
Also consider your environment – for example, if you live in a place that has cobbled streets, wearing stilettos to and from work every day is likely to see you break an ankle (or break the shoe), either you need to travel in different shoes, or choose a more stable heel type. If you catch public transport to work and are pressed up against other commuters, wearing lots of white or light colours is probably less than ideal as you're likely to get grubby very quickly.
It's time to marry up all the elements that are you, that work with your life, in your environment. This will help you feel most comfortable and confident.
Last night I did a talk for a group of fabulous business women, and one commented that her husband always feels she's overdressed – she says she doesn't do casual. She feels underdressed in casual clothing and is more comfortable when smartly dressed. I told her that this is fine as it's her personality, and there is nothing wrong with always being well dressed, even when everyone else is more casual, as it suits her, and that is what makes her feel most comfortable and confident. Just because her husband is Mr Casual doesn't mean she has to be too.
If you'd like more tips on analysing your lifestyle and wardrobe needs – this is also covered in depth in my
7 Steps to Style
program.