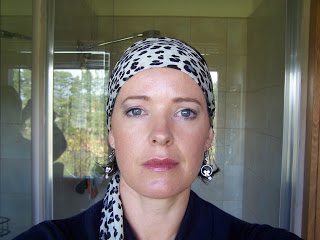 Today I wasn't seeing clients, so I decided not to wash my hair, I also decided to give it a rest from hot styling tools which I have to use to tame it every day, but I still have to do the school and kindy drop offs and pick ups so need to keep it looking decent (after all, who wants to take advice from a badly groomed image consultant?).
So I decided to wrap a scarf around my head to cover up most of my hair. It's a long rectangle scarf, and I just tied a knot at the back to keep is secure.
It's so quick and easy – I love it!
Interestingly the scarf, worn down on my forehead slightly, shortens my rather large forehead (my face is an Oblong or long oval) and gives me an oval face shape which is flattering.