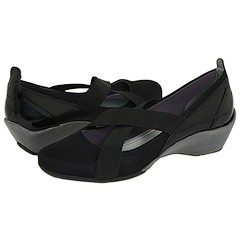 Last week after a shopping trip with a client, I was wandering back to my car through the shoe section of David Jones in Doncaster Shoppingtown, when I spied these shoes. I've been looking for a pair of comfortable shoes that don't scream 'ugly' at me. I wanted something I can pair with jeans for running around with my kids, doing grocery shopping and could even wear with a skirt and leggings if I so felt inclined.
So here are the new addition that fits the bill, they're DKNY Alyssa, and are available from
Zappos.com
and come in a variety of colours, black, brown, bronze and beige.
I got mine on sale (if you're passing a DJs and want to see if they have your size).
They would also work really well as a travel shoe – the sole feels almost like a sports shoes sole and has lots of bounce for walking over cobbled streets or any sort of pavement walking. The criss-cross elastic holds them firmly on my feet and adds a diagonal design element that is slimming to the foot.
Yet what I love about them is that they have a more refined look than a pair of sneakers.