How ordered or organised is your wardrobe?
I've just come back from spending a few hours inside a lovely client's wardrobe and it's interesting to see just how differently wardrobes can be organised physically, as in how they are laid out (how much hanging vs how many drawers/shelves etc) and also how we put our clothes away and how we put outfits together will be influenced by the way we organise and order our clothes in our wardrobe space.
If your clothing is in no order, it really is harder to find new ways of putting your outfits together. You are less likely to see all the options of what goes with what.
How to Organised Your Closet
How you organise your wardrobe will be influenced by its layout. Hanging or folding space, lots of different hanging spaces or just one long bar.
Decide on your layout based on how many garments you have in each kind of clothing category (pants, tops, skirts, dresses etc).
Order each type of garment by colour. I start at white and work my way through to black via the rainbow (red/pink/orange/yellow/green/blue/violet/brown/grey/black). With patterns, put it into the colour section of the most dominant colour in the pattern. Sounds like lots of effort putting your clothes away, but I can tell you that extra minute when hanging your clothes in their colour/type order will save you tons of time in the morning getting dressed as you'll never be searching for that white shirt or black skirt in amongst everything else as if it's not in your white shirt or black skirt section, it's in the wash. Simple!
Underwear, cami's and activewear, jeans and shorts can be folded. I love the Kon Marie method of folding. No more untidy stacks and drawers, no more losing your clothes underneath other bits and pieces. Watch the video below on how to do it! I use shoe boxes for underwear and bras, socks and sleepwear to keep it all together inside my drawers which are around 1m wide. If you have shelves, baskets or boxes make great 'drawers' that mean you can do the Kon Marie fold. I found this great tutorial that shows how to fold lots of different kinds of clothes.
Fold only those clothes that are too delicate for hanging (if possible, this, of course, depends on your wardrobe layout). And if they are weirdly shaped, watch this video below:
Ordering your clothes in type and colour is the easiest way to start to see more outfit options as you can take a coloured or patterned item and find all the other pieces that go with it easily.
Here is an example using a patterned skirt – Imagine running this skirt along your organised by colour tops and finding this range of options to go with it.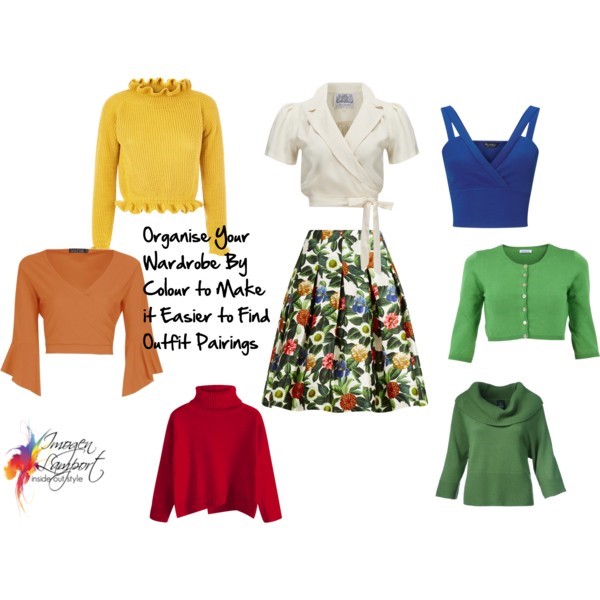 Accessory organisation is another aspect of wardrobing.
And remember, that you should treat your wardrobe like a kitchen – it's a space for things that are useful, not an archive of past memories!
It's important to regularly declutter your wardrobe of the worn out and dated. My easy tip – imagine you are buying back the item from a thrift shop – is it in good enough condition for you to buy back? If not, let it go!
Now some of you think you want a minimalist wardrobe, but I've seen this go terribly wrong on occassion – if this is something you're thinking about – please read this.
Before You Throw It All Out for a Minimalist Wardrobe Read This
Angela, from Creating Order from Chaos asked me to give her a tip on wardrobe organisation – which I did here on her blog .
How do you organise your wardrobe? Does it work? Or is it more of a floordrobe?
Further Reading on Wardrobing
16 Wardrobe Storage Tips to Make Finding Things in Your Wardrobe Easy